Back
CleverShuttle dispatches using IVU.suite
Get from door to door flexibly and economically while caring for the environment – CleverShuttle operates with this quality aspiration in six German cities. In future, the ridepooling service will use the dispatch solutions of IVU.suite, offered by the Berlin-based IT specialist IVU Traffic Technologies, in order to make efficient use of vehicles and drivers.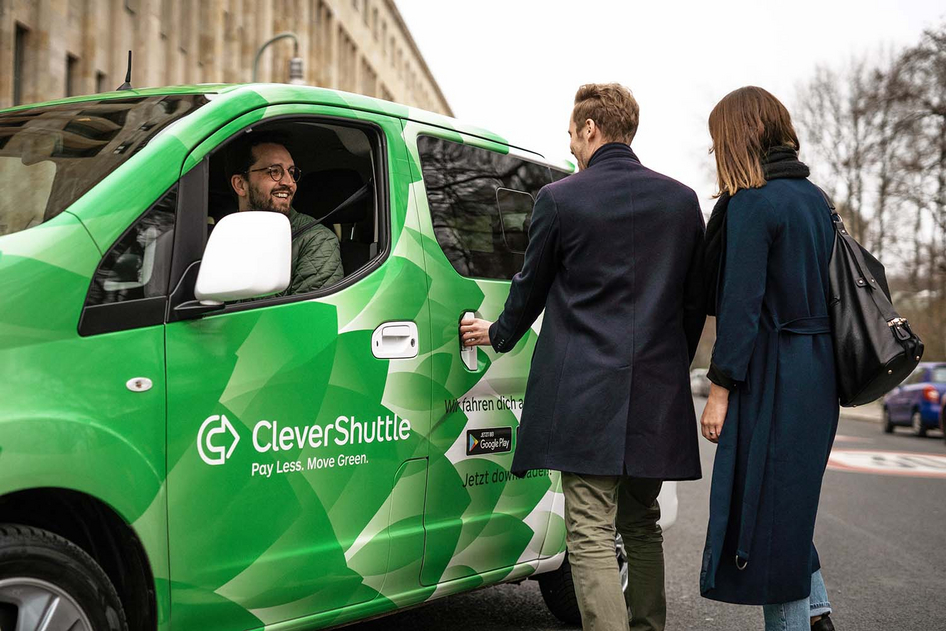 About 1,500 drivers and more than 500 vehicles allow CleverShuttle to provide wide-scale coverage in the cities that are served. The entire fleet consists exclusively of hydrogen- or battery electric-powered vehicles. Customers book the service using an app, after which an algorithm intelligently pools the passengers and determines the quickest route. The products included in IVU.suite will allow CleverShuttle to respond quickly to changing requirements and to deploy employees more efficiently and more economically.
The staff dispatching system IVU.crew assists CleverShuttle with all of its duty scheduling for the drivers on permanent contracts, whose extremely flexible working models and hours create complex requirements. All process steps benefit from powerful optimisation algorithms: from long-term planning four weeks ahead of time, to medium-term dispatching one week before duty start, to daily staff deployment. Automatic personnel dispatch is especially helpful in creating efficient and fair duty schedules. In addition, a mobile employee portal for swapping duties, absence scheduling and submitting requests speeds up dispatching and simplifies communicating with drivers.
"Sustainable mobility means responsibility – for the environment, our customers and our employees. IVU.suite increases our efficiency and flexibility when we plan our shifts," says Bruno Ginnuth, CEO of CleverShuttle. Martin Müller-Elschner, CEO of IVU Traffic Technologies, adds: "Ridepooling is an important addition for urban mobility. This is why we are extremely pleased to support CleverShuttle with our expertise in enabling sustainable local transport. In addition, the order highlights the capabilities of IVU.suite in highly flexible environments in which efficiency is especially required."

About CleverShuttle: Founded in 2014 by three schoolmates from Berlin, CleverShuttle is the leading ridepooling expert in Germany. Its goal is to reduce the number of private cars in city centres. CleverShuttle offers its ridepooling service in Berlin, Munich, Dresden, Düsseldorf, Kiel and Leipzig. The company places great value on environmentally friendly, economical door-to-door mobility provided by professional drivers. The company uses an algorithm to pool urban riders who wish to get to a similar destination. This enables better use of the seating capacity in cars and reduces the number of vehicles on the roads. Moreover, CleverShuttle fills gaps in urban transport plans. At the same time, the battery electric- or hydrogen-powered vehicles contribute to sustainable, modern mobility. The largest shareholder is Deutsche Bahn.
IVU Traffic Technologies has been providing efficient and environmentally friendly public transport for over 45 years with more than 800 engineers. The integrated standard products of the IVU.suite map all the processes of bus and rail companies: from planning and dispatching to operations control, ticketing and passenger information, right through to the settlement of transport contracts. In close partnership with our customers, we lead demanding IT projects to success and therefore ensure reliable mobility in the metropolises of the world.
IVU. SYSTEMS FOR VIBRANT CITIES.
Feel free to contact us
We look forward to hearing from you
Do you want to talk with a customer advisor or learn more about career opportunities with us? Or maybe there is something else you want to talk to us about? Write to us – your contact person will get back in touch with you as quickly as possible.
Subscribe to IVU News
Stay informed – get the latest news about our projects, customers and products directly into your inbox.