Back
Multi-client operation control and ticketing system for VVV
Efficient connections, standardised real-time data and reliable passenger information: The Vorarlberg public transport association VVV will be launching an IVU Traffic Technologies multi-client operation control and ticketing system in order to further improve the quality of public transport services in the whole region.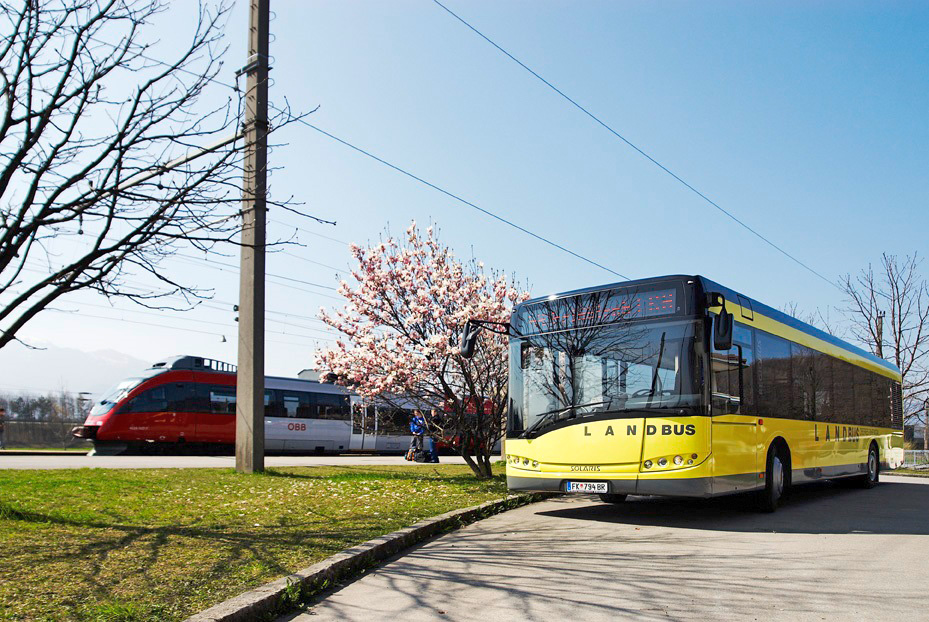 In the popular holiday region of Vorarlberg – Austria's most western federal state – the VVV unites a total of 26 bus and train operators, as well as the regional train connections of the Austrian Federal Railways (ÖBB) and of Montafonerbahn AG. IVU is supplying its central multi-client ITCS (intermodal transport control system), IVU.fleet, meaning that all transport companies in the association will be using the same technology to monitor vehicle locations and to reschedule services in the event of disruptions.
"With the IVU client system, we are able to standardise the VVV IT landscape step by step and provide our passengers with standardised and reliable real-time information everywhere in the future," explained Gerhard Kräutler, head of the Technology and Infrastructure department at VVV. "As a result, we will increase not only the efficiency of the individual transport companies, but also the appeal of local public transport for our customers."
IVU is installing the on-board computer and ticket printer IVU.ticket.box in more than 340 VVV buses to provide standardised real-time data for fleet management and passenger information throughout the network. The central accounting system IVU.fare ensures that the on-board computers are always supplied with up-to-date fare information, therefore simplifying fare management in the network. Mobile payment machines provided by Polish partner company Mera Systemy complete the ticketing solution from IVU.
This project followed a Europe-wide tender, in which IVU managed to come out on top as the best bidder. "We are delighted that we were able to win over a flagship transport association like VVV with our multi-client standard solution," said Wolfgang Alfanz, Managing Director of IVU Traffic Technologies Austria GmbH. "With this order, we have gained another key reference in the Austrian market and are positioning ourselves here as one of the leading providers of multi-client operation control and ticketing systems."
IVU Traffic Technologies has been providing efficient and environmentally friendly public transport for over 40 years with more than 800 engineers. The integrated standard products of the IVU.suite map all the processes of bus and rail companies: from planning and dispatching to operations control, ticketing and passenger information, right through to the settlement of transport contracts. In close partnership with our customers, we lead demanding IT projects to success and therefore ensure reliable mobility in the metropolises of the world.
IVU. SYSTEMS FOR VIBRANT CITIES.
Feel free to contact us
We look forward to hearing from you
Do you want to talk with a customer advisor or learn more about career opportunities with us? Or maybe there is something else you want to talk to us about? Write to us – your contact person will get back in touch with you as quickly as possible.
Subscribe to IVU News
Stay informed – get the latest news about our projects, customers and products directly into your inbox.