Back
VBN plans with IVU system
Public transport is open and versatile – to make sure that it stays like this in the future, the Bremen/Lower Saxony transport association (VBN) is purchasing a central planning system from Berlin-based IT specialist IVU Traffic Technologies. The members of the association will then be able to use the system to complete all their timetable planning, vehicle scheduling and duty scheduling as independent operators – entirely from the cloud.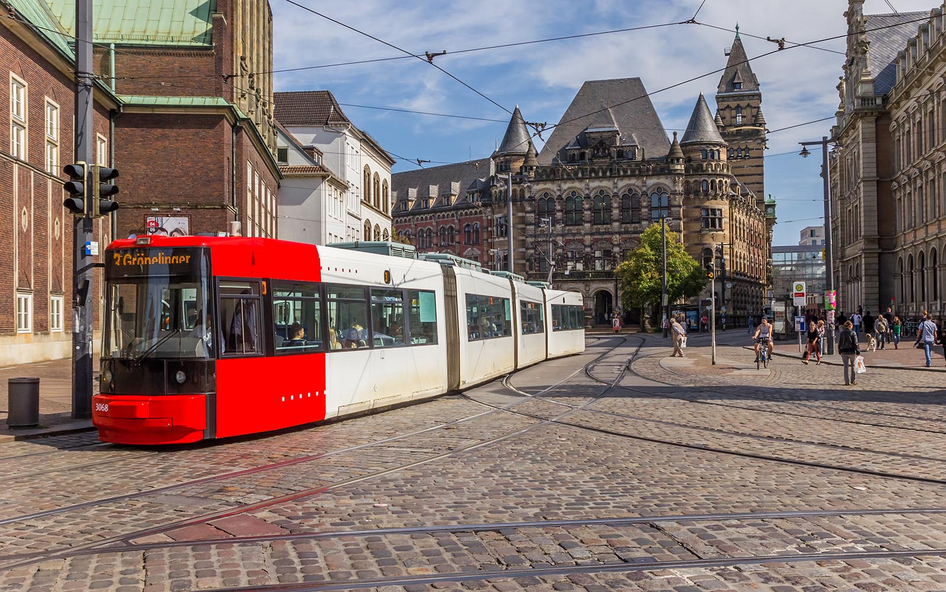 As an amalgamation of over 30 private and municipal transport operators, VBN provides all public transport in the network region covering the cities of Bremen, Bremerhaven and Oldenburg. Every year, more than 175 million passengers use the services provided by the member companies. With the ordered planning system, VBN wants to give the small and medium-sized operators in the network access to an integrated resource planning tool to ensure non-discriminatory access to the German public transport market in the future.
VBN has already been using the fleet management system IVU.fleet for network-wide fleet management and connection management since 2013. Now, the association is adding the planning products IVU.run and IVU.duty to the tools available to its members. The integrated system allows transport companies to use a computer-supported vehicle and duty scheduling system to deploy vehicles and employees efficiently. Up to 30 VBN members with around 1,000 buses will be able to upgrade to the new environment over the next few years.
To ease the workload of the association, the administration union and the individual companies, IVU will also be taking care of all hosting as well as the technical operations management for the system within the IVU.cloud. The high-performing Amazon Web Services server ensures complete operational reliability.
"We were particularly impressed by the integrated approach of the IVU solution. The option of having IVU host the entire production environment in particular was an important advantage for us as it saves us time, resources and costs," says Michael Lorenzen, Project Manager in the area of information systems at VBN and the future system administrator. "This enables us to support our members as they digitalise their entire resource planning system and in doing so help them to further improve their services for their passengers."
"We are delighted that VBN has chosen to start using our planning products," says Bastian Dittbrenner, Head of the Public Transport division at IVU. "This order is ground-breaking in the sense that it is continuing the success of ITCS central networked systems to incorporate the area of planning. This could make it a model of integrated system architecture for other transport associations."
IVU Traffic Technologies has been working for over 45 years with more than 700 engineers to ensure efficient and environmentally friendly public transport. IVU.suite's integrated standard products cover all bus and rail companies' processes: from planning, dispatching and operations controls to ticketing, passenger information and the settlement of transport contracts. By working in close partnership with our customers, we lead successful and ambitious IT projects and ensure reliable mobility in the world's metropolises.
IVU. SYSTEMS FOR VIBRANT CITIES.
The Bremen/Lower Saxony transport association (VBN) fully or partially combines over 30 municipal and private transport companies providing local public transport in the cities of Bremen, Bremerhaven, Delmenhorst, Oldenburg as well as the districts of Ammerland, Oldenburg, Wesermarsch, Cuxhaven, Nienburg, Osterholz, Rotenburg (Wümme), Verden and Diepholz. The most important task is the development of a standardised tariff and ticket structure. Over 175 million journeys are made using the buses, trams and trains of VBN annually (2018). You can find more detailed information online at www.vbn.de.
Feel free to contact us
We look forward to hearing from you
Do you want to talk with a customer advisor or learn more about career opportunities with us? Or maybe there is something else you want to talk to us about? Write to us – your contact person will get back in touch with you as quickly as possible.
Subscribe to IVU News
Stay informed – get the latest news about our projects, customers and products directly into your inbox.