Back
Automated Charging Management for DVG
Needs-based charging schedules and preconditioning for the Duisburg electric bus fleet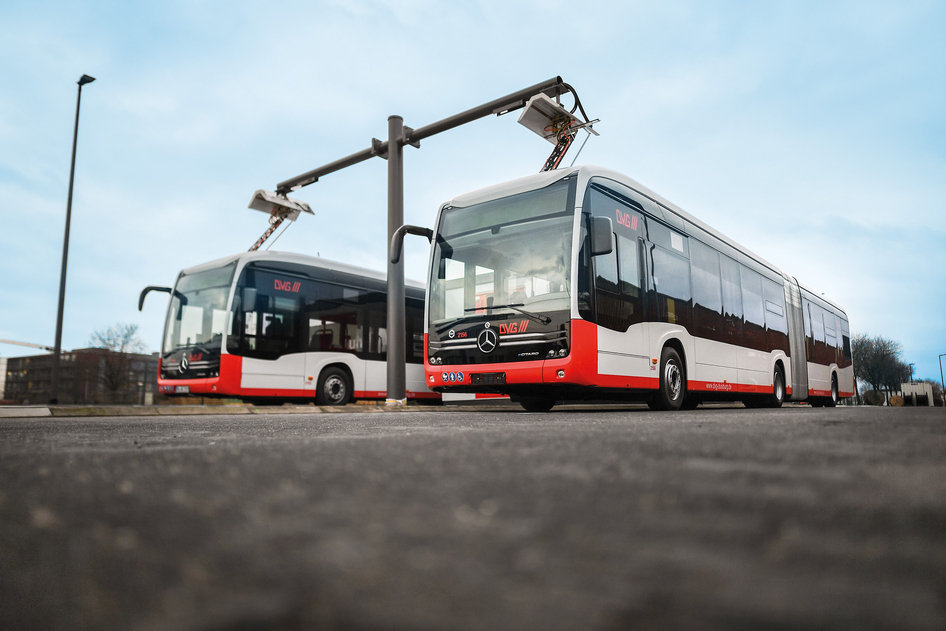 Berlin/Duisburg, 1 March 2022 | Optimum charging schedules, up-to-date vehicle data, and secure ranges – the transport company Duisburger Verkehrsgesellschaft (DVG) is now using IVU.suite's integrated load and charging management system for their electric buses. Dispatchers are always up to date thanks to real-time vehicle data, while the automatic preconditioning enables the range to be extended.
DVG uses 57 trains and 101 buses to transport passengers across Duisburg, between the largest inland port in the world in the middle of the Ruhr area and the Land­schafts­park Duisburg-Nord – a public former industrial park, reclaimed by nature. From March 2022, passengers will be able to travel on the first electric buses from EvoBus. In order to charge the new electric buses in the best possible way, DVG are using the load and charging management system from IVU.suite from the very beginning: This means that needs-based charging schedules that control the charging infrastructure and take the preconditioning and the load limits into account can be generated.
The smart loading in the IVU.suite optimises the total performance at the Duisburg depot and always takes all the technical and situational factors into account. This allows the system to avoid load peaks and capacity overruns and allocates the charging processes dynamically across vehicles and charging stations to charge vehicles as efficiently and economically as possible. During the trip, the DVG dispatchers receive all relevant vehicle data, such as the state of charge (SoC) or the remaining range in real time via the EvoBus vehicle data interface.
"With IVU.suite's load and charging management system we can operate our electric bus fleet efficiently right from the start, and sink our maximum load at the same time", said Marc Schwarzer, Head of the Bus Division at DVG. "This means that the load shifting allocates the changing procedures efficiently and also takes factors such as electricity procurement costs and network load into account."
"Thanks to the IVU.suite's integrated approach, our charging management system can be extended by a depot management system as needed without any problems", said Bastian Dittbrenner, Division Manager, Public Transport at IVU Traffic Technologies. "In addition, IVU.suite is compatible with many interfaces – such as with the charging stations from Schaltbau and the vehicle data interface from Daimler Buses in Duisburg."
IVU Traffic Technologies has been providing efficient and environmentally friendly public transport for over 45 years with more than 800 engineers. The integrated standard products of the IVU.suite map all the processes of bus and rail companies: from planning and dispatching to operations control, ticketing and passenger information, right through to the settlement of transport contracts. In close partnership with our customers, we lead demanding IT projects to success and therefore ensure reliable mobility in the metropolises of the world.
IVU. SYSTEMS FOR VIBRANT CITIES.