Back
Sales-Lentz optimises planning and scheduling with IVU.suite
Launch of integrated solution for vehicle and personnel deployment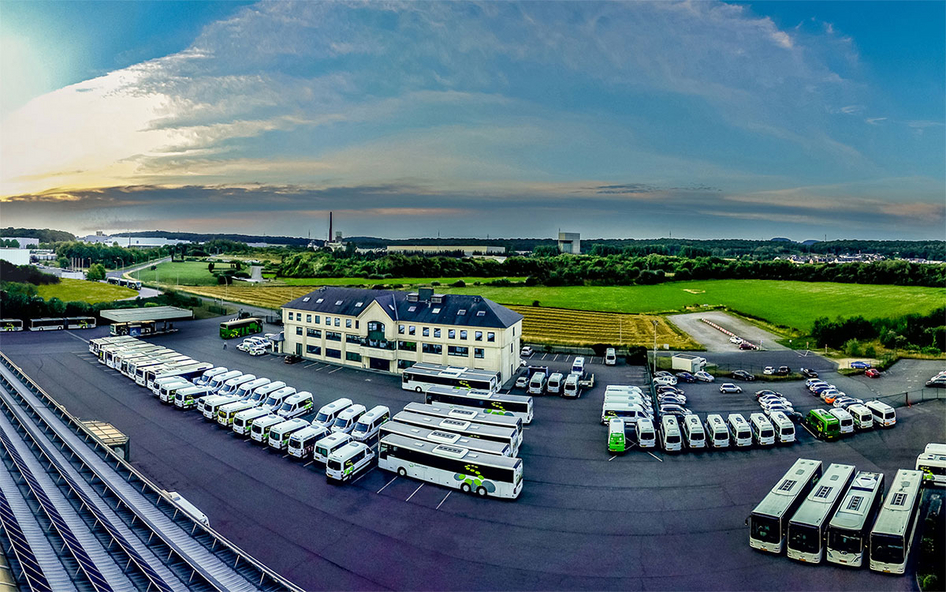 Berlin/Bascharage, 26 July 2017 | Since the start of the year, Sales-Lentz – one of Luxembourg's biggest transport operators – has been managing its planning and scheduling using IVU.suite. Thanks to its powerful optimisation core, the standard system from Berlin-based IVU Traffic Technologies ensures the efficient and resource-saving deployment of vehicles and personnel.
With around 260 vehicles and 400 drivers, Sales-Lentz operates 120 lines in the RGTR network, including routes to Belgium and France. The company also conducts charter trips for schools and factories, private hire, catalogue and group trips and night bus services. To more effectively coordinate driver duties in scheduled services with the separate and sometimes multi-day charter trips, Sales-Lentz implemented the IVU.suite planning and scheduling modules.
This standard system developed by IVU features integrated duty and vehicle working scheduling, which allows vehicle working periods to be synchronised with the drivers' break and relief periods. This not only avoids conflicts, but also allows dispatchers to utilise bus capacities more effectively and create more balanced driver duty schedules. An interface in IVU.suite allows data to be easily imported from the external scheduling system for charter trips, which means that planners at Sales-Lentz can instantly integrate these trips in the standard duty schedules.
The first depot to implement the new system did so at the start of the year; and since the end of February, all six depots run by Sales-Lentz have migrated to the IVU solution. "Organising the very different duty schedules for charter trips and scheduled trips has always been a huge challenge for dispatchers and drivers alike," said Wolfgang Schroeder, chief executive of Sales-Lentz. "IVU.suite enables us to manage both in a single system, which makes scheduling much easier. As a result, our employees benefit from better rotas."
Martin Müller-Elschner, CEO of IVU Traffic Technologies added: "We are delighted that Sales-Lentz has opted for IVU.suite. Luxembourg is one of IVU's core markets, and we are proud to now be working with the country's biggest private transport operator." Other IVU customers in Luxembourg include the Luxembourg City transport operator AVL, the public transport operator TICE and the national railway operator CFL. In addition, the new Luxembourg tram system Luxtram – also scheduled with IVU.suite – will shortly be entering service.
IVU Traffic Technologies has been working for over 40 years with more than 700 engineers to ensure efficient and environmentally friendly public transport. IVU.suite's integrated standard products cover all bus and rail companies' processes: from planning, dispatching and operations controls to ticketing, passenger information and the settlement of transport contracts. By working in close partnership with our customers, we lead successful and ambitious IT projects and ensure reliable mobility in the world's metropolises.
IVU. SYSTEMS FOR VIBRANT CITIES.