Back
Cashless Payment for Stadtwerke Münster
Cashless payment on buses and flexible hosting in the cloud – Berlin-based IT specialist IVU Traffic Technologies is helping Stadtwerke Münster modernise its bus ticketing systems. IVU is also taking care of the technical operation of the IVU systems for fleet management, fare management and passenger information in the IVU.cloud.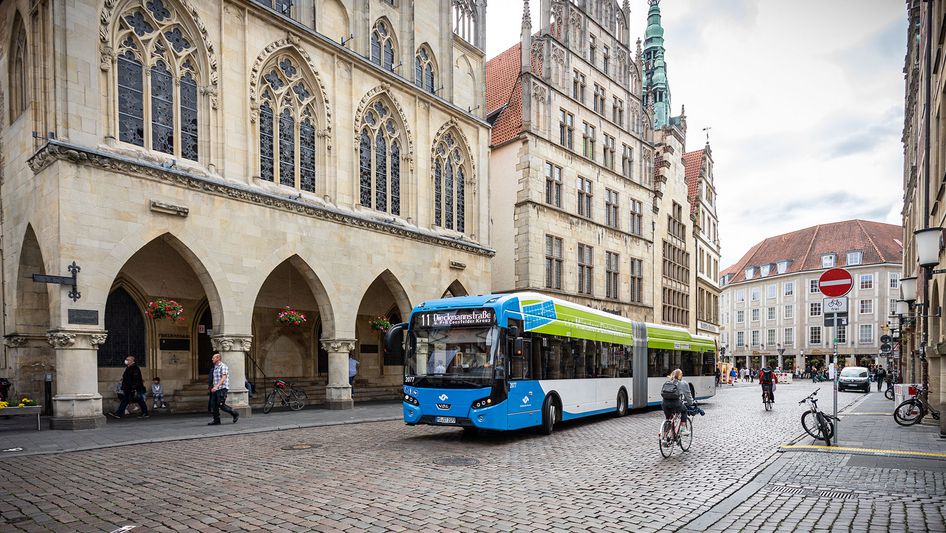 Stadtwerke Münster regularly takes first place in the German public transport customer satisfaction barometer and has been one of the most popular public transport operators in Germany for years. As a pioneer in e-ticketing, the company also introduced the country's first flexible tariff for occasional riders in 2013. From 2021, passengers on many buses will not even need their smart card to make cashless payments when they board.
To facilitate this, Stadtwerke Münster is upgrading the IVU.ticket.box on-board computers, which are installed in the more than 200 buses belonging to the company and its partners. The driver-operated devices will be fitted with new pay terminals, which will enable tickets to be purchased with a debit card and PIN entry or credit card as well as contactless transactions. This will not only increase passenger convenience but also speed up the payment process when boarding. The current hardware platform of the IVU.ticket.box also enables Stadtwerke Münster to introduce a communication system based completely on VoIP.
This year, IVU is also taking over the hosting for the background systems IVU.fleet, IVU.fare and IVU.realtime in the IVU.cloud. This means that the entire technical management of the systems is undertaken by the manufacturer. Secure data lines, high-availability servers and a comprehensive support concept ensure everything runs smoothly.
"We are delighted to be extending our partnership with IVU further. If we are to effectively embrace the mobility transition, we need to overcome boarding issues. Switching to the IVU.cloud will assist us in this area," says Frank Gäfgen, Managing Director of SWMS. "For many passengers, cashless payment is not only more convenient but also faster than paying with cash. It's a win-win situation."
"As one of the most innovative transport operators in Germany, Stadtwerke Münster is quick to introduce new developments in the sector and sets new trends in the process. Its unwavering trust in our products demonstrates the performance and flexibility of the IVU.suite," says Timo Kirst, the division manager responsible at IVU Traffic Technologies. "We are proud that we will continue supporting Stadtwerke Münster with our products in the future to allow them to offer passengers innovative and customer-friendly mobility in Münster."
IVU Traffic Technologies has been providing efficient and environmentally friendly public transport for over 45 years with more than 800 engineers. The integrated standard products of the IVU.suite map all the processes of bus and rail companies: from planning and dispatching to operations control, ticketing and passenger information, right through to the settlement of transport contracts. In close partnership with our customers, we lead demanding IT projects to success and therefore ensure reliable mobility in the metropolises of the world.
IVU. SYSTEMS FOR VIBRANT CITIES.
Feel free to contact us
We look forward to hearing from you
Do you want to talk with a customer advisor or learn more about career opportunities with us? Or maybe there is something else you want to talk to us about? Write to us – your contact person will get back in touch with you as quickly as possible.
Subscribe to IVU News
Stay informed – get the latest news about our projects, customers and products directly into your inbox.