Back
Depot management for VLP Hagenow
Fully digital workflows for efficient vehicle deployment – Verkehrsgesellschaft Ludwigslust-Parchim mbH (VLP) will rely on the electric bus solutions of the IVU.suite from IVU Traffic Technologies in future. The Berlin-based IT specialist is supplying a complete system for depot management, charging management and consumption forecasts.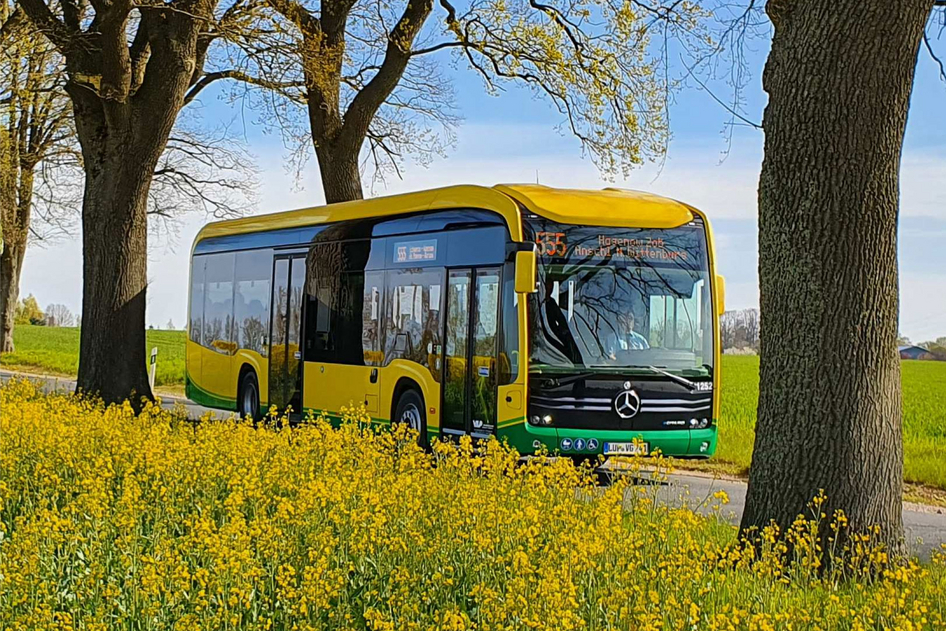 VLP is responsible for bus transport in the district of Ludwigslust-Parchim, in Amt Neuhaus in the district of Lüneburg and in various towns in the region. On 172 routes with vehicle schedules up to 400 kilometres in length, around 200 buses provide reliable public transport. By the end of 2022, VLP is changing part of its fleet over to battery-powered electric buses. To ensure a smooth changeover, the company is relying on the integrated solutions of IVU.suite.
The system is already helping the planners at VLP with energy consumption and charging speed forecasts. For vehicle and parking space management, it automatically takes into account the constraints of the electric buses and factors such as weather, route topography and traffic volumes. This means that VLP's electric buses are always charged and preconditioned for the following vehicle block on time. During the charging process, the charging management system of IVU.suite also controls the charging devices, optimises the charging phases and monitors the progress of charging. The highlight here is that thanks to the comprehensive integration of the systems, IVU.suite knows the battery capacities, charging devices and their charging capacities as well as the ranges and charging times of the vehicles – and adapts the charging process accordingly. This relieves the pressure on VLP's dispatch managers and ensures optimum workflows at the depot.
"In particular, the tight integration of vehicle and parking space management, consumption forecasts and the charging management system have impressed us. That enables us to really focus on operations," said Stefan Lösel, Managing Director of VLP. "In combination with the integrated duty and vehicle scheduling of IVU.suite, it makes the complex changeover to electric vehicles far easier for us."
"We are delighted that VLP – as a long-standing IVU.suite customer – is now also using our solutions to facilitate its move into e-mobility," said Bastian Dittbrenner, Managing Director of the Public Transport division at IVU. "Its decision in favour of our system is further proof that with our product range, we can provide our customers with the best possible advice and support as they make strides towards the future of electric transport."
IVU Traffic Technologies has been providing efficient and environmentally friendly public transport for over 45 years with more than 800 engineers. The integrated standard products of the IVU.suite map all the processes of bus and rail companies: from planning and dispatching to operations control, ticketing and passenger information, right through to the settlement of transport contracts. In close partnership with our customers, we lead demanding IT projects to success and therefore ensure reliable mobility in the metropolises of the world.
IVU. SYSTEMS FOR VIBRANT CITIES.
Feel free to contact us
We look forward to hearing from you
Do you want to talk with a customer advisor or learn more about career opportunities with us? Or maybe there is something else you want to talk to us about? Write to us – your contact person will get back in touch with you as quickly as possible.
Subscribe to IVU News
Stay informed – get the latest news about our projects, customers and products directly into your inbox.