Back
IVU.pool at the KVB
All timetable data integrated in a single platform – the KVB now benefit from cross-network timetable information thanks to the integration solution IVU.pool from Berlin-based IT specialist IVU Traffic Technologies. IVU.pool receives all the latest, updated data and integrates this in a comprehensive network.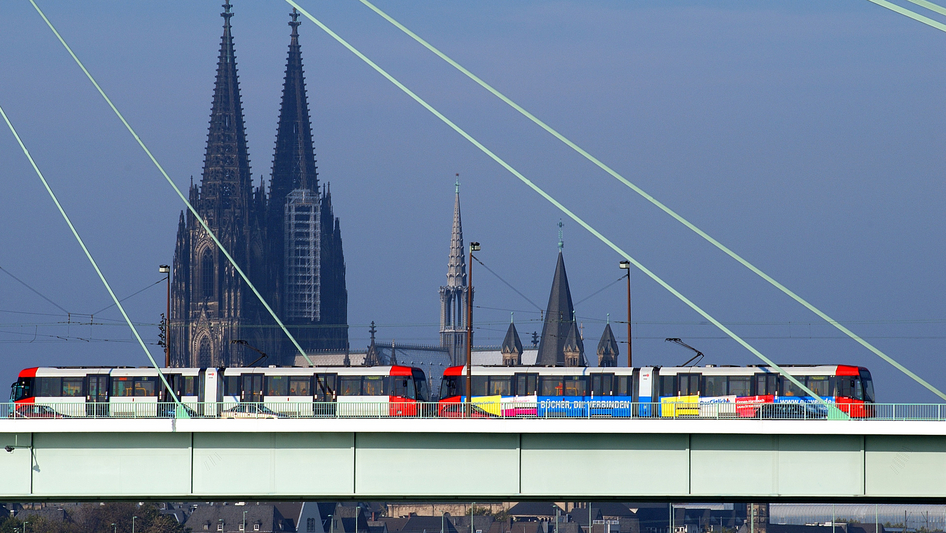 The Kölner Verkehrs-Betriebe AG (KVB) have been providing public transport services within the cathedral city and beyond for more than 100 years – and for the past 20 years, the company has placed its trust in a range of planning solutions from IVU. On 12 rail and 69 bus routes, the KVB operate more than 700 vehicles offering customer-friendly and environmentally responsible transportation. To integrate the timetable data required for this in a single data pool and further improve its timetable information services, the KVB are deploying a range of products – including the data integration solution IVU.pool.
IVU.pool imports all the timetable data from the transport operators belonging to the Rhein-Sieg (VRS) transport association. In the future, data from the neighbouring associations AVV and VRM will also be included. Once the data has been imported, IVU.pool integrates it in a comprehensive network to create the basis for cross-network timetable information. The software also has an interface with the Nahverkehr Rheinland (NVR) infrastructure atlas, which serves as a data basis for integrating accessible stop information. The data provided by IVU.pool is processed and published by the HAFAS timetable information system from Hacon.
"The IVU.pool interface with the NVR stop register allows the KVB to perform accessible data modelling along its entire transportation chain," says Bastian Dittbrenner, Head of the Public Transport Division at IVU Traffic Technologies. "IVU.pool is a highly effective integration solution for making timetable information available at a cross-system and cross-network level."
IVU Traffic Technologies has been providing efficient and environmentally friendly public transport for over 40 years with more than 800 engineers. The integrated standard products of the IVU.suite map all the processes of bus and rail companies: from planning and dispatching to operations control, ticketing and passenger information, right through to the settlement of transport contracts. In close partnership with our customers, we lead demanding IT projects to success and therefore ensure reliable mobility in the metropolises of the world.
IVU. SYSTEMS FOR VIBRANT CITIES.
Feel free to contact us
We look forward to hearing from you
Do you want to talk with a customer advisor or learn more about career opportunities with us? Or maybe there is something else you want to talk to us about? Write to us – your contact person will get back in touch with you as quickly as possible.
Subscribe to IVU News
Stay informed – get the latest news about our projects, customers and products directly into your inbox.