Back
IVU.rail at DB Fernverkehr
Efficient vehicle working scheduling, optimal vehicle deployment, and fast conflict management – DB Fernverkehr is now controlling all trains with IVU Traffic Technologies' integrated complete system IVU.rail. This allows the railway company to flexibly plan 1,400 train trips a day in one system, and dispatch them in real time.
Frankfurt am Main, Germany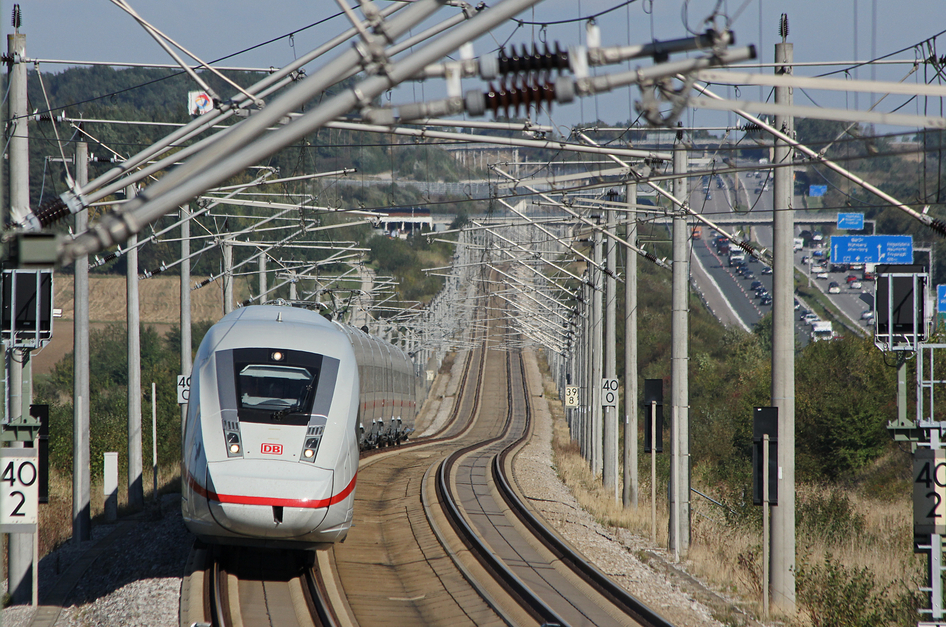 DB Fernverkehr is relying on the worldwide leading IT-system for rail transport to standardise and digitalise their processes. After successfully introducing the timetable planning, vehicle working scheduling, and construction site planning, the vehicle dispatch has now been productively introduced for the entire rail fleet, consisting of a total of 210 locomotives, 1,100 passenger carriages, and around 360 multiple unit trains.
Around 1,400 train trips a day are planned and dispatched by DB Fernverkehr – integrated into their own existing system landscape. An integrated conflict model automatically displays any possible discrepancies in the current vehicle deployment. The control centre immediately sees where they need to take action and are supported by the system as they adjust train trips. Modifications to the timetable caused by current construction work are processed in the software as the basis for optimum vehicle dispatch.
"Our aim is clear: we want even more people to be excited about climate-friendly rail travel. Digitalisation plays a key role here," said Dr Daniela Gerd tom Markotten, DB Board Member for Digitalisation and Technology. "IT systems such as IVU.rail make it possible for us to resolve challenges in the daily planning for our trains with the best possible solutions for travellers. This allows us to manage transport more efficiently and reduce delays."
"When I sit in the on-board restaurant in an Intercity Express train while the landscape passes by at 300 km/h I am filled with pride that we can contribute to this kind of climate-friendly travel with IVU.rail," said Martin Müller-Elschner, CEO of IVU Traffic Technologies. "This contract is one of the largest in IVU's history and is enormously prestigious within Europe and beyond."
IVU Traffic Technologies has been providing efficient and environmentally friendly public transport for over 45 years with more than 800 engineers. The integrated standard products of the IVU.suite map all the processes of bus and rail companies: from planning and dispatching to operations control, ticketing and passenger information, right through to the settlement of transport contracts. In close partnership with our customers, we lead demanding IT projects to success and therefore ensure reliable mobility in the metropolises of the world.
IVU. SYSTEMS FOR VIBRANT CITIES.
Feel free to contact us
We look forward to hearing from you
Do you want to talk with a customer advisor or learn more about career opportunities with us? Or maybe there is something else you want to talk to us about? Write to us – your contact person will get back in touch with you as quickly as possible.
Subscribe to IVU News
Stay informed – get the latest news about our projects, customers and products directly into your inbox.