Back
IVU.rail at Start Niedersachsen Mitte
Complete system implementation in only six months – the regional transport operator Start Deutschland GmbH (abbreviated start) plans and dispatches the entire personnel and all trains for the Niedersachsen Mitte network with the integrated standard software IVU.rail from IVU Traffic Technologies. The rail transport company thereby profits from an entirely digital workflow, from timetable planning and duty scheduling to the deployment of vehicles and personnel.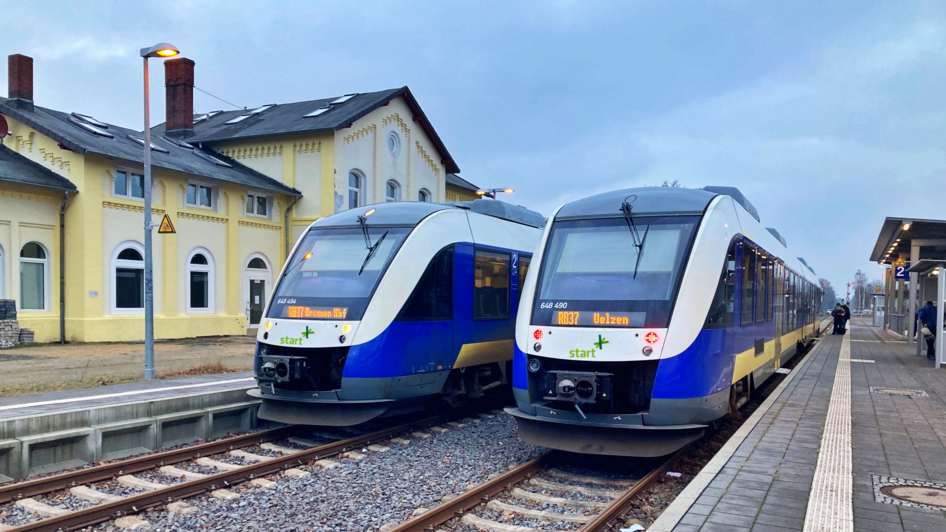 Since 2018, start, a young and innovative subsidiary of DB Regio AG, has connected people between Hamburg and Cuxhaven in the Unterelbe network. On 12 December 2021, the transport company additionally put the Niedersachsen Mitte network into operation, with four routes between the cities Bremen, Uelzen, Hamburg, Hanover, Bünde, Hildesheim and Bodenburg. Start Unterelbe, like Start Niedersachen Mitte before it, has relied on IVU.rail to accomplish this.
Start is thereby able to create timetables and duties, plan vehicle workings, and deploy vehicles and personnel in just one system. This makes it possible, for example, to plan efficient duties while taking wage agreements into account, to react flexibly to personnel absences, or to carry out payroll accounting. IVU.rail simultaneously displays all information on the current operating situation and is seamlessly integrated with the workshop management system ZEDAS, used by Start Niedersachsen Mitte to schedule the necessary upkeep of the vehicles. This allows the dispatch managers to maintain an overview of all available trains, which they can easily and efficiently bring onto the tracks.
"Because we had already used IVU.cloud since 2018 at Start Unterelbe, IVU.rail was able to be very quickly implemented for operating the Niedersachsen Mitte network," says Alexander Falkenmeier, Business Executive at start. "That we would be able to bring the system into productive operation on time after only six months was by no means a given and indicates the high performance of the IVU.suite."
"Start is a young, growing company with many fresh ideas for regional transport in Germany," says Oliver Grzegorski, Division Manager for Rail at IVU Traffic Technologies. "We are proud that we are able to support start from the beginning with our standard software, as they further modernise rail transport in Germany and make it more sustainable."

About Regionalverkehre Start Deutschland GmbH
The best of both worlds: Regionalverkehre Start Deutschland GmbH was founded in 2016 as a subsidiary of DB Regio AG and is head-quartered in Frankfurt am Main. In a start-up atmosphere, the expert team develops innovative solutions for clients for the entire value-production chain in regional rail transport. The goal: successfully win service commissions in regional rail transport together with the resources of the parent company, and optimally operate them for their customers. start relies on business models that are regional and tailored to each transport contract, and on flexible concepts for the regional rail transport of the future.
IVU Traffic Technologies has been providing efficient and environmentally friendly public transport for over 45 years with more than 800 engineers. The integrated standard products of the IVU.suite map all the processes of bus and rail companies: from planning and dispatching to operations control, ticketing and passenger information, right through to the settlement of transport contracts. In close partnership with our customers, we lead demanding IT projects to success and therefore ensure reliable mobility in the metropolises of the world.
IVU. SYSTEMS FOR VIBRANT CITIES.
Feel free to contact us
We look forward to hearing from you
Do you want to talk with a customer advisor or learn more about career opportunities with us? Or maybe there is something else you want to talk to us about? Write to us – your contact person will get back in touch with you as quickly as possible.
Subscribe to IVU News
Stay informed – get the latest news about our projects, customers and products directly into your inbox.