Back
IVU.suite at Verkehrsverbund Steiermark
Multi-tenant ITCS and an association-wide ticketing system – the Berlin IT specialist IVU Traffic Technologies has successfully completed the introduction of the integrated complete system IVU.suite at Verkehrsverbund Steiermark. As a result, passengers in Styria now benefit from reliable real-time information and standardised fare management, among other things.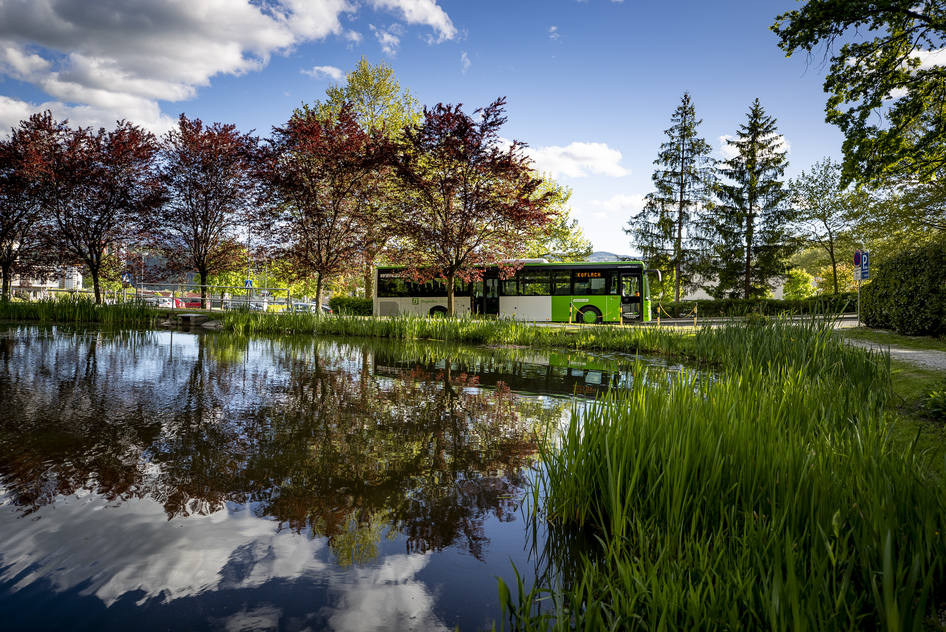 All around the 2700-metre Dachstein Glacier, Verkehrsverbund Steiermark provides efficient and customer-friendly regional transportation in Styria, the "Green Heart of Austria". In order to further improve both the quality of local public transport and the range of services, Verkehrsverbund Steiermark conducted a tendering process in 2017, which IVU won with its multi-tenant capable operations control and ticketing system. The complete system has been in use across the association since the end of 2021 and is being continuously expanded. This means that the individual transport operators can access IVU.suite's hardware and software solutions at any time when allocating new route bundles on the basis of a joint framework agreement.
All transport operators are connected to the control centre provided by the association and, thanks to IVU.suite's multi-tenant capable background system, benefit from automation and consistent data across company boundaries. IVU.suite passes on incoming actual vehicle data directly to the passengers via the real-time data complete system. All the requirements have also already been met for connection assurance throughout the association's network.
"Thanks to the IVU.suite, we now have a very modern real-time data complete system with the Regio-AVL as the central component," said Peter Gspaltl, Managing Director of Verkehrsverbund Steiermark GmbH. "Reliable passenger information throughout the association area and cashless payment on busses are significant benefits for us, and above all, for our passengers."
"As a driver of innovation in public transport, Verkehrsverbund Steiermark is taking on a pioneering role in Austria and, with the widespread deployment of the IVU.suite, is setting new standards for the operational control of transport associations", said Wolfgang Alfanz, Managing Director of IVU Traffic Technologies Austria GmbH. "This project completion is an important milestone for the development of the steadily growing Austrian market."
IVU Traffic Technologies has been providing efficient and environmentally friendly public transport for over 40 years with more than 800 engineers. The integrated standard products of the IVU.suite map all the processes of bus and rail companies: from planning and dispatching to operations control, ticketing and passenger information, right through to the settlement of transport contracts. In close partnership with our customers, we lead demanding IT projects to success and therefore ensure reliable mobility in the metropolises of the world.
IVU. SYSTEMS FOR VIBRANT CITIES.
Feel free to contact us
We look forward to hearing from you
Do you want to talk with a customer advisor or learn more about career opportunities with us? Or maybe there is something else you want to talk to us about? Write to us – your contact person will get back in touch with you as quickly as possible.
Subscribe to IVU News
Stay informed – get the latest news about our projects, customers and products directly into your inbox.