Back
IVU.suite for Basler Verkehrs-Betriebe
Cloud-based deployment and resource planning across the company – Basler Verkehrs-Betriebe (BVB) plan and dispatch all vehicles and personnel with the integrated all-round solution IVU.suite from IVU Traffic Technologies. BVB will also be using IVU's standard system for depot and charging management for its fleet.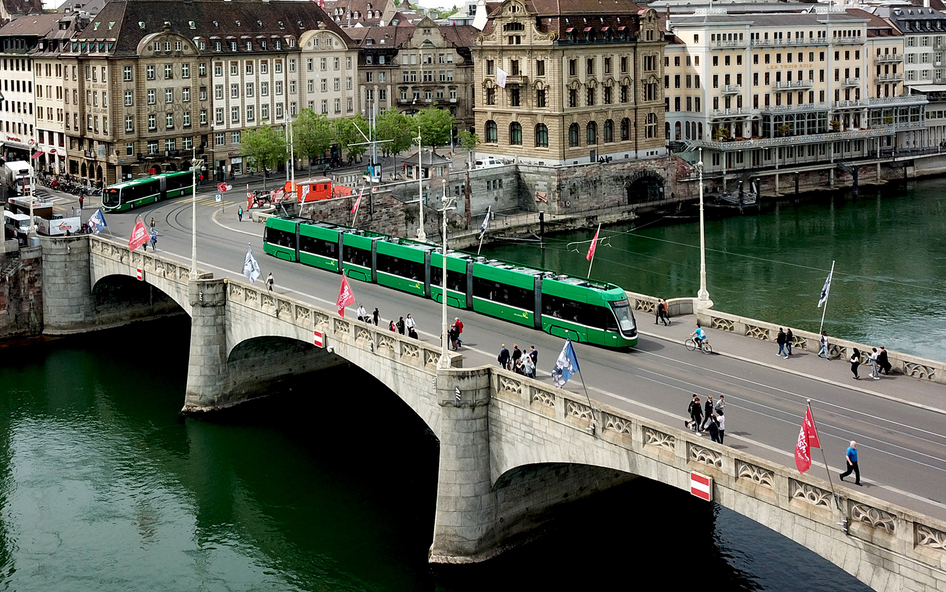 From Basel Minster in the Old Town area to the Swiss border and beyond into Germany or France, Basler Verkehrs-Betriebe carries around 106 million passengers to their destinations quickly and conveniently every year. To manage all transport personnel and vehicles across the company, BVB have been using the integrated standard solution IVU.suite since April 2022, operating it entirely from the IVU.cloud. By the end of 2023, BVB are also planning to roll out the depot management system for its entire fleet, including the load and charging management system for electric buses.
As a result, Basler Verkehrs-Betriebe will enjoy not only standardised timetable planning and vehicle working scheduling for its approximately 120 buses and 130 trams but also optimised duty scheduling and personnel dispatch for its 650 transport service staff in an all-digital workflow. Thanks to duty schedule optimisation, for example, BVB can issue new duty schedules much more quickly in response to roadworks or other circumstances that require changes to be made. Automatic personnel dispatch (APD) always factors in the skills, holiday and preferences of drivers, while IVU.pad provides staff members with duty schedules quite literally at their fingertips.
"The numerous automations and optimisations offered by IVU.suite make it a lot easier for us to explore new approaches to duty scheduling and personnel dispatch and to put them into practice efficiently", said Michel Mesmer, head of planning and production at Basler Verkehrs-Betriebe. "Over the next few months, we will also be putting the electric bus solutions of the IVU.suite into operation so that we can make the best use of our all-electric buses. That will be a big step towards our goal of operating on 100% renewable energy by 2027."
"The roll-out of IVU.suite in Basel is a significant flagship project for IVU both in Switzerland and internationally and an excellent demonstration of our capabilities", said Marc Schaffert, CEO of IVU Traffic Technologies Schweiz AG. "Our long-term framework contract with Basler Verkehrs-Betriebe is a testament to the fact that from vehicle planning and personnel dispatch to electric vehicle operations, IVU.suite is the perfect solution for public transport in major cities."
IVU Traffic Technologies has been providing efficient and environmentally friendly public transport for over 45 years with more than 800 engineers. The integrated standard products of the IVU.suite map all the processes of bus and rail companies: from planning and dispatching to operations control, ticketing and passenger information, right through to the settlement of transport contracts. In close partnership with our customers, we lead demanding IT projects to success and therefore ensure reliable mobility in the metropolises of the world.
IVU. SYSTEMS FOR VIBRANT CITIES.
Feel free to contact us
We look forward to hearing from you
Do you want to talk with a customer advisor or learn more about career opportunities with us? Or maybe there is something else you want to talk to us about? Write to us – your contact person will get back in touch with you as quickly as possible.
Subscribe to IVU News
Stay informed – get the latest news about our projects, customers and products directly into your inbox.