Back
IVU.suite for Copenhagen suburban railway
A new suburban railway for the Greater Copenhagen area: The Letbane på Ring 3 is scheduled to be transporting approximately 14 million passengers a year by 2025. Berlin IT specialist IVU Traffic Technologies is providing its integrated standard solution IVU.suite for this project.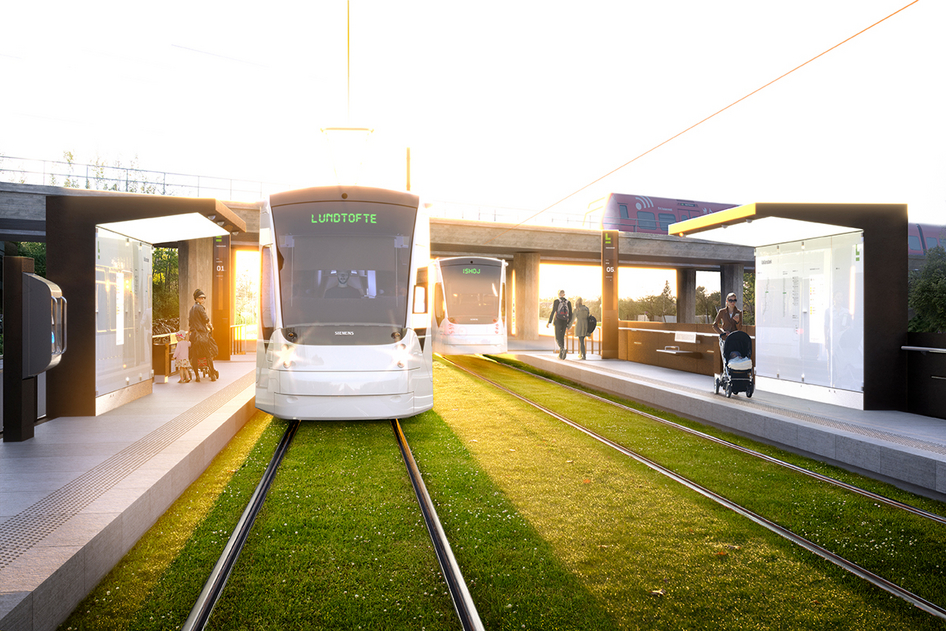 A new public transport service is being added to the suburbs of the Danish capital – a 28-kilometre network with 29 stops. The new suburban railway will transport passengers from the Lyngby municipality in the north of Copenhagen to Ishøj in the south west in just under an hour. Siemens AG is supplying 29 Siemens Avenio trams for the network and as the general contractor, the company is responsible for all project coordination and execution. IVU has been tasked with installing a complete system for fleet management.
"The IVU systems have put us in an ideal position to successfully complete this major project," explained Peter Løbner Hansen, Project Director at Siemens. "Thanks to their flexibility and their broad functional scope, the integrated solutions from IVU not only meet all of our requirements, they also completely satisfy the operational needs and standards of our customer and the future operator of the Hovedstadens Letbane."
Over the course of the project, all trams will be fitted with an IVU.box.touch on-board computer. Together with the control software IVU.cockpit, this computer supports the driver by providing important information on the trip course, establishes a connection to the control centre and supplies information to passengers. The ITCS IVU.fleet in turn continuously processes vehicle location data, which helps the dispatch managers to react quickly and appropriately to changes in the traffic situation. The passenger information system IVU.realtime is directly connected to the control system and provides the incoming actual data to passengers in real time – on digital displays, online and via an app.
"We are delighted that we are able to help Greater Copenhagen further develop public transport services with our integrated standard solution," said Harald Schirrmeister, Division Manager Public Transport Projects at IVU Traffic Technologies. "With IVU.suite, the region is getting a future-proof system that can be easily integrated into a wide variety of IT landscapes and flexibly enhanced." The operator of the driverless metro system in Copenhagen, Metro Service A/S, already uses the solutions from IVU.
IVU Traffic Technologies has been providing efficient and environmentally friendly public transport for over 40 years with more than 800 engineers. The integrated standard products of the IVU.suite map all the processes of bus and rail companies: from planning and dispatching to operations control, ticketing and passenger information, right through to the settlement of transport contracts. In close partnership with our customers, we lead demanding IT projects to success and therefore ensure reliable mobility in the metropolises of the world.
IVU. SYSTEMS FOR VIBRANT CITIES.
Feel free to contact us
We look forward to hearing from you
Do you want to talk with a customer advisor or learn more about career opportunities with us? Or maybe there is something else you want to talk to us about? Write to us – your contact person will get back in touch with you as quickly as possible.
Subscribe to IVU News
Stay informed – get the latest news about our projects, customers and products directly into your inbox.