Back
IVU.suite for SWEG
SWEG and IVU Traffic Technologies have agreed to start a long-term strategic partnership to modernise bus and rail transport in Baden-Wuerttem­berg and develop innovative solutions for the mobility of the future together. SWEG will use the integrated complete system IVU.suite for all bus and rail operations.
Lahr (Black Forest), Germany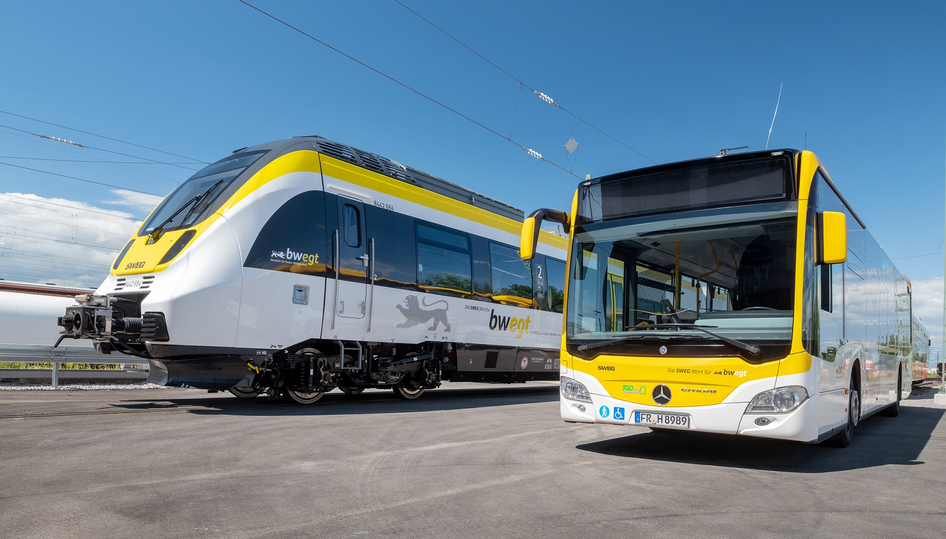 Südwest­deutsche Landesverkehrs-GmbH (SWEG) has been ensuring reliable and convenient public transport is available in Baden-Württem­berg for 60 years and has around 470 buses and 180 trains – now actively supported by the IVU.suite. SWEG and IVU have now started a long-term strategic partnership in order to achieve more intensive collaboration and try out innovative operational concepts together.
In future, SWEG will control their entire bus and rail operation with IVU.suite and through this establish a continuous digital workflow, starting with the planning, dispatch, and fleet management and continuing through to ticketing and passenger information, as well as to the settlement of transport contracts. In addition, the strategic partnership will include joint product developments and innovation projects on alternative propulsion, autonomous shuttles, or extended forms of digital passenger information.
"Thanks to the introduction of IVU.suite across our whole operation we will benefit from a completely integrated IT system landscape for all our processes," says Tobias Harms, Chairman of the Board at SWEG. "This will make practically every step easier, save an enormous amount of resources, and in the process further improve public transport in Baden-Württem­berg."
"The strategic partnership with SWEG is the result of years of constructive and trust-based collaboration," says Martin Müller-Elschner, CEO of IVU Traffic Technologies. "Now we can use our combined expertise to develop forward-looking mobility solutions for the transport of tomorrow."
IVU Traffic Technologies has been providing efficient and environmentally friendly public transport for over 45 years with more than 800 engineers. The integrated standard products of the IVU.suite map all the processes of bus and rail companies: from planning and dispatching to operations control, ticketing and passenger information, right through to the settlement of transport contracts. In close partnership with our customers, we lead demanding IT projects to success and therefore ensure reliable mobility in the metropolises of the world.
IVU. SYSTEMS FOR VIBRANT CITIES.
Feel free to contact us
We look forward to hearing from you
Do you want to talk with a customer advisor or learn more about career opportunities with us? Or maybe there is something else you want to talk to us about? Write to us – your contact person will get back in touch with you as quickly as possible.
Subscribe to IVU News
Stay informed – get the latest news about our projects, customers and products directly into your inbox.