Back
IVU.suite for the Mercedes-Benz eCitaro
Optimal load, charging, and depot management system for Mercedes-Benz eCitaro – with the IVU.suite, the Berlin-based IT specialist IVU Traffic Technologies is delivering a customised software solution for the fully electrically powered eCitaro. From now on, transport operators can easily order electric buses and software from a single source in order to quickly and efficiently convert their fleet to electric mobility.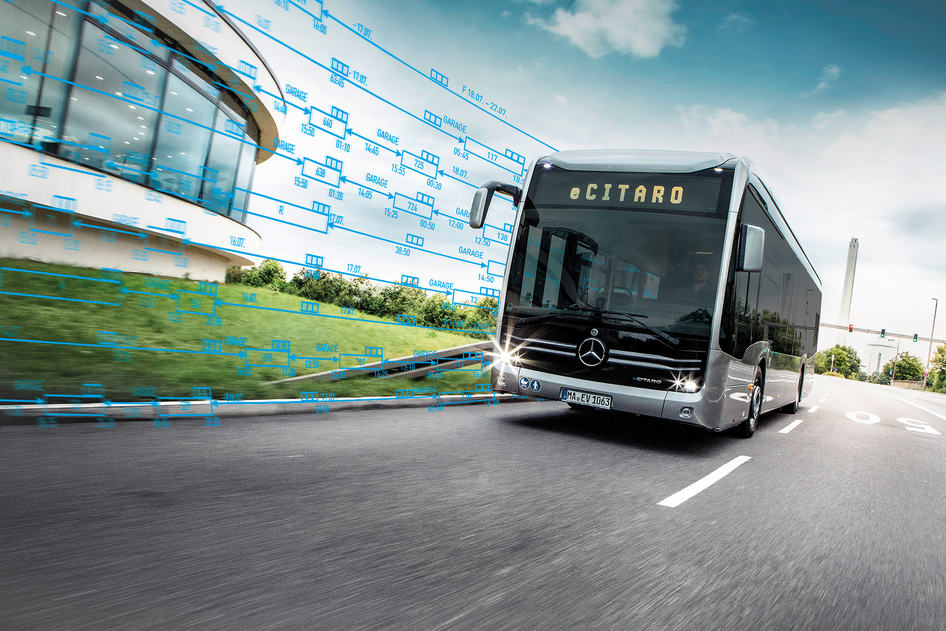 In order to jointly develop innovative solutions for the public transport of the future, Daimler Buses and IVU Traffic Technologies have concluded a comprehensive framework agreement. The combined expertise of the two companies already ensures, for example, that hardware and software are integrated into a standardised overall eMobility system, thus supporting transport operators on their way to electromobility. From now on, fully electric Mercedes-Benz eCitaro buses including the customised software solution IVU.suite can be ordered from a single source and efficiently deployed on the road.
Thanks to the IVU.suite, transport operators can monitor the eCitaro on the link from the start, park it smoothly, charge it smartly, and deploy it again. The complete system always takes into account all relevant data of the electric buses, such as the age of the batteries, available total power, charging stations ready for use, and energy costs. Based on this data, the IVU.suite then creates detailed range forecasts in real time and calculates optimal charging scenarios – whether at the depot or on the link. This ensures maximum efficiency and availability at minimum cost.
"Together with IVU, we want to make the path to electromobility as simple and straightforward as possible for transport operators," says Mirko Sgodda, Head of Sales, Marketing and Services at Daimler Buses. "The deployment-tested overall eMobility system is suitable for any type of fleet – be it 10 electric buses or large mixed fleets of more than 1000 vehicles."
"We are very proud to bring electromobility forward in Germany and Europe together with Daimler Buses," says Matthias Rust, CTO of IVU Traffic Technologies. "To be able to realise the European Green Deal, we need significantly more innovative, integrated solutions for public transport – and that's exactly what the framework agreement between Daimler Buses and IVU stands for."
IVU Traffic Technologies has been providing efficient and environmentally friendly public transport for over 40 years with more than 800 engineers. The integrated standard products of the IVU.suite map all the processes of bus and rail companies: from planning and dispatching to operations control, ticketing and passenger information, right through to the settlement of transport contracts. In close partnership with our customers, we lead demanding IT projects to success and therefore ensure reliable mobility in the metropolises of the world.
IVU. SYSTEMS FOR VIBRANT CITIES.
Feel free to contact us
We look forward to hearing from you
Do you want to talk with a customer advisor or learn more about career opportunities with us? Or maybe there is something else you want to talk to us about? Write to us – your contact person will get back in touch with you as quickly as possible.
Subscribe to IVU News
Stay informed – get the latest news about our projects, customers and products directly into your inbox.