Back
BUS Ostschweiz deploys IVU.pad
Digital workflows from planning to drivers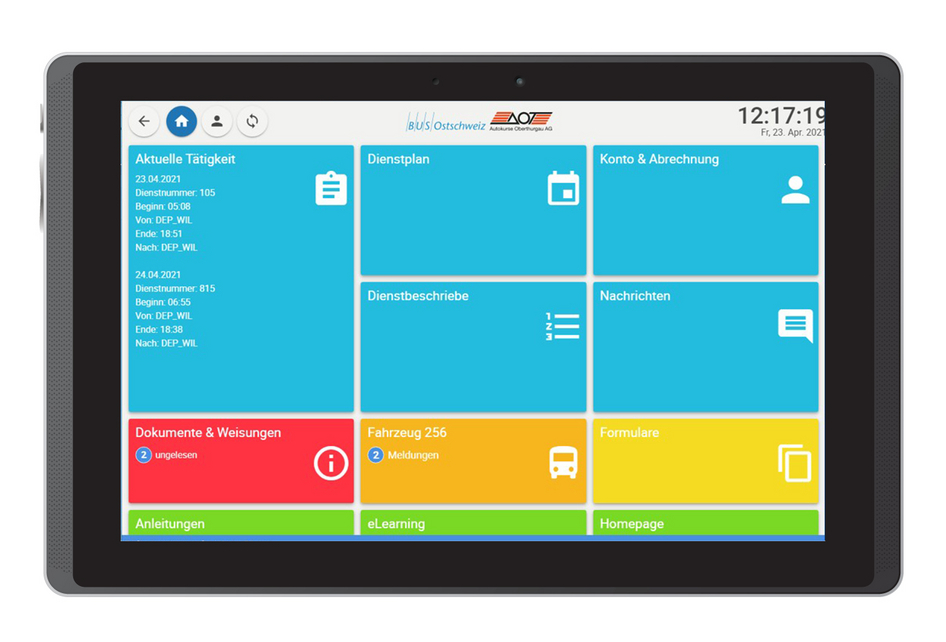 Berlin/Altstätten, 8 June 2021 | Efficient employee communication, standardized planning processes and intuitive operation – BUS Ostschweiz AG is deploying IVU.pad from IT specialist IVU Traffic Technologies. Fully integrated in the IVU.suite products, the mobile tablet app ensures optimum communication among drivers, dispatchers and workshops.
BUS Ostschweiz (BOS) transports more than nine million people every year between Lake Constance and Lake Walen as well as throughout the Wil region. The route network used by the various companies covers more than 440 kilometres. To ensure the efficient deployment of its 120 vehicles and 260 drivers, the company has been using IVU.suite products since 1999. To promote the modernisation and digitalisation of employee communication, BOS implemented IVU.pad at all its sites in time for the 2020/2021 timetable change.
The mobile app connects seamlessly to the existing planning and personnel dispatch processes in IVU.suite, providing BOS with an end-to-end digital workflow in a single integrated system. When they start their shift, drivers automatically receive all the relevant information and documents on the app's homepage. Drivers can forward notifications about, say, vehicle damage to the workshop as well as to the planning and dispatch teams. Likewise, backend users can update the notifications and their status and communicate with the drivers. Thanks to a highly configurable user concept, IVU.pad can be optimised in line with the individual requirements of differing locations and applications, meaning that users see only the data that is relevant to them.
"Compared with the previous mobile solution, IVU.pad can be integrated much more seamlessly in our operational processes and is a huge help to our drivers and dispatchers in their daily planning processes. This is why it has been so well received among our employees," said Andreas Deterling, Head of Planning Development at BUS Ostschweiz AG. "Close collaboration with IVU during implementation played a key role here too, allowing us to identify the most important requirements early on and integrate them in product development."
"BOS's decision underscores the flexibility and future viability of IVU.pad," said Marc Schaffert, CEO of IVU Traffic Technologies Switzerland. "In particular, the decision demonstrates that our highly integrated solution – compared with loosely coupled systems – offers clear benefits for transport companies when it comes to their operational processes and interaction with mobile employees."
IVU Traffic Technologies has been working for over 45 years with more than 700 engineers to ensure efficient and environmentally friendly public transport. IVU.suite's integrated standard products cover all bus and rail companies' processes: from planning, dispatching and operations controls to ticketing, passenger information and the settlement of transport contracts. By working in close partnership with our customers, we lead successful and ambitious IT projects and ensure reliable mobility in the world's metropolises.
IVU. SYSTEMS FOR VIBRANT CITIES.