Back
Central client system for the rms GmbH
Standardising the IT landscape in the RMV network: rms GmbH takes complete system from IVU into operation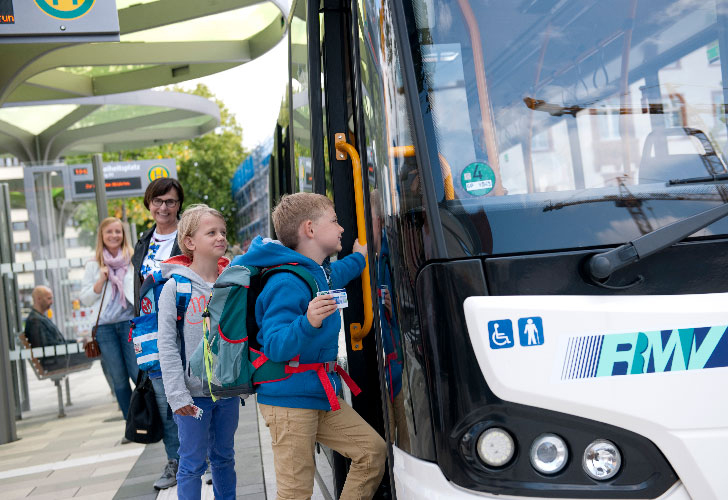 Berlin/Frankfurt am Main/Hofheim am Taunus, 26 June 2018 | A standardised data flow producing harmonised passenger information in a transport association with over 160 transport operators: In order to make this a reality, Rhein-Main-Ver­kehrs­ver­bund Service­gesell­schaft (rms) has now taken a central client system developed by IVU Traffic Technologies into operation. This is creating the basis for the harmonisation of the IT landscape in the network of Rhein-Main-Ver­kehrs­ver­bund (RMV). For passengers, this means improvements such as faster, more reliable real-time information, which most importantly covers a wider area.
RMV is one of the largest transport associations in Germany, encompassing a transport area of 14,000 square kilometres and around 750 million passengers each year. Besides 64 regional and suburban rail routes, the association has approximately 1,000 bus routes, which are predominantly operated by small and medium-sized transport operators. All of these operators have their own IT systems, which means that up until now there have generally been no standardised IT processes, structures and procedures in the association's landscape. To change this, RMV has launched an initiative for greater standardisation as part of its digitalisation strategy together with its subsidiary, rms GmbH. The aim is to make it even easier to use buses and trains and to tap into new customer groups through new and personalised services.
"Taking the IVU system into operation is a further milestone on the path towards IT harmonisation throughout the association," explained RMV managing director Prof. Knut Ringat. "We are providing the transport operators with a system that will make their work easier and that offers a high level of stability and reliability." In order to give the operators the best possible support after the implementation as well, rms is also taking care of user support. As well as providing the system, IVU is also responsible for running it, including hosting and second-level support.
"IT harmonisation is a challenging project," stated rms managing director Jörg Puzicha. "IVU, with whom we have been working for a long time, is our first implementation partner. Thanks to the integrated IVU solution, we will receive significantly better data from the individual RMV operators in future – both in terms of quality and quantity."
"This data enables us to perform comprehensive analyses," said head of RMV Knut Ringat, "meaning we can tailor our services even more precisely to our passengers' needs. Another advantage for our customers is that timetables and live information will be available even faster and they will be even more reliable."
The standard products of IVU.suite are being implemented: IVU.fleet for fleet management and dispatch, IVU.realtime for the transmission of real-time information, IVU.control for statistics and IVU.fare and IVU.ticket for fare management and ticket sales. Future topics such as product and control modules will also soon be centrally available for the clients of the rms IVU.suite. On the whole, the IVU solution can connect several hundred clients, process their data, and feed this into the RMV data hub.
"IVU epitomises standardisation. This is why we are delighted to support rms in the harmonisation of the RMV IT landscape throughout the association," said Andreas Hellwig, the division manager responsible at IVU Traffic Technologies. "Our standard solution can be effortlessly integrated into any environment and is easily scalable thanks to the external hosting – this means that rms can respond flexibly to altered requirements."
IVU Traffic Technologies has been working for over 40 years with more than 700 engineers to ensure efficient and environmentally friendly public transport. IVU.suite's integrated standard products cover all bus and rail companies' processes: from planning, dispatching and operations controls to ticketing, passenger information and the settlement of transport contracts. By working in close partnership with our customers, we lead successful and ambitious IT projects and ensure reliable mobility in the world's metropolises.
IVU. SYSTEMS FOR VIBRANT CITIES.
rms GmbH is the point of contact for all topics relating to customer-oriented public transport. Since 1997, rms GmbH has successfully completed over 3,000 projects in the areas of planning, consulting and service. Today, over 140 employees from Frankfurt and Berlin support clients throughout Germany.