Back
COVID restrictions on public transport: IVU providing a solution at short notice
IVU is adding COVID certificate-checking to its in-house ticketing software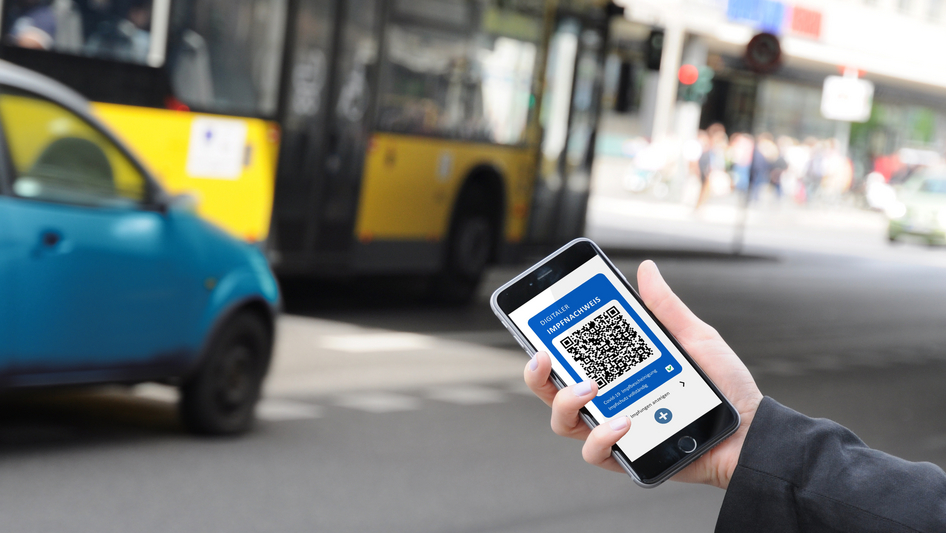 Berlin/Aachen, 30 November 2021 | Berlin-based IT-specialist IVU Traffic Technologies is adding integrated '3G' COVID certificate-checking to its ticketing software for its existing customers in Germany, at no extra licence charge. The new service is efficient, contactless and available immediately. Public transport operators thus now have access to a quick and secure system for checking both tickets and COVID certificates easily and right there on board the vehicle.
Germany's '3G' rule (requiring people to provide proof of either being vaccinated, having recovered from COVID within the last six months or having tested negative for COVID within the last 48 hours – geimpft, genesen and getestet respectively, hence '3G') has applied to public transport nationwide since 24 November 2021. Public transport operators are now required to conduct spot checks aimed at ensuring that all passengers are carrying not only their tickets but also the relevant COVID certificates. To help make the process of verifying 3G status easier for public transport operators in Germany, IVU has acted quickly to update its in-house IVU.ticket software to allow all certificates to be scanned and validated on board vehicles.
As a result, drivers and ticket inspectors can check both tickets and 3G certificates with their existing hardware, such as on-board computers and hand-held devices. The new checking function enables operators to comply with the requirements and statutory regulations and has been integrated into existing products and processes. IVU is delivering this service to its customers in Germany at absolutely no extra licence charge within the framework of service contracts.
"Thanks to this short-notice update to the IVU.suite, our customers can meet the new statutory requirements using our normal standard software. That means that they don't have to expend considerable effort on switching to additional devices or apps or carrying out unnecessarily complicated passenger checks," said Falko Hagebölling, head of Development Operations at IVU Traffic Technologies. "This means that public transport operators can save time and resources while improving safety, security and passenger satisfaction at the same time."
IVU Traffic Technologies has been providing efficient and environmentally friendly public transport for over 45 years with more than 700 engineers. The integrated standard products of the IVU.suite map all the processes of bus and rail companies: from planning and dispatching to operations control, ticketing and passenger information, right through to the settlement of transport contracts. In close partnership with our customers, we lead demanding IT projects to success and therefore ensure reliable mobility in the metropolises of the world.
IVU. SYSTEMS FOR VIBRANT CITIES.