Back
De Lijn uses IVU.suite to provide passenger information
Over 450 stop displays have gone into service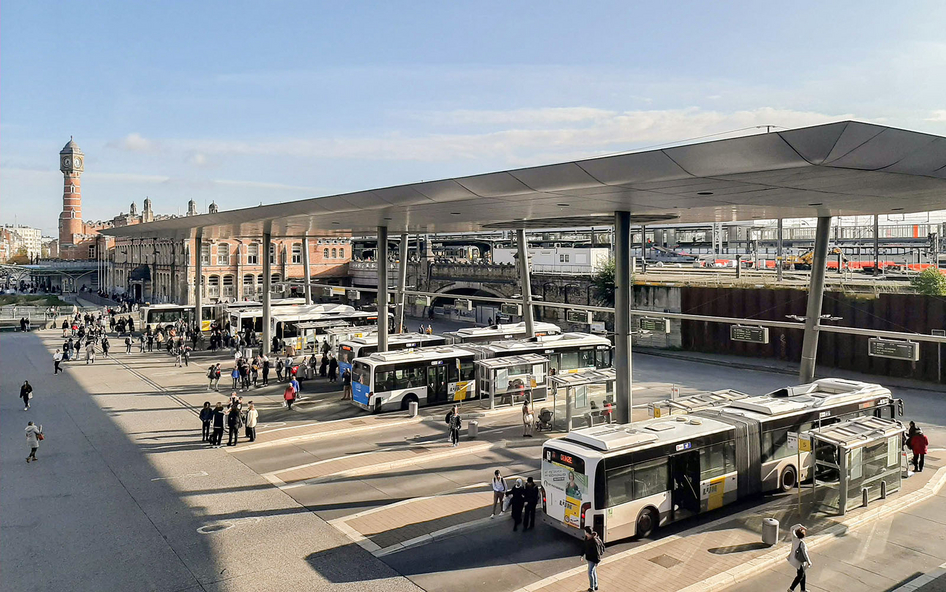 Berlin/Mechelen, 29 September 2020 | Up-to-date information on more than 450 displays at nearly 60 bus stations: Belgian transport company De Lijn has recently used the products from IVU Traffic Technologies' IVU.suite to modernise the passenger information at the country's key transport hubs.
De Lijn operates public transport in the Flemish provinces of Belgium with over 3,200 buses and around 400 trams. Over 500 million passengers a year use the company's services, which comprise over 900 bus and tram lines – including the famous Kusttram, the longest tram line in the world, running 68 kilometres along the Flemish coast.
To modernise the passenger information, IVU provided its stop computer software IVU.realtime.stop, which supplies the displays at every bus station with current data. The system allows bilingual output, which is customary in many parts of Belgium, as well as automatic colour coding of the lines shown on TFT displays. The audio output is also designed for the requirements of large interchanges: It can provide up to 16 stop points at once with automatic text-to-speech announcements.
"The modernisation of the passenger information was particularly challenging on account of the size of the bus stations, but also the specific Belgian requirements. We were impressed by the performance of the IVU software," says Yvan Strubbe from De Lijn. "Thanks to the IVU solution, we now have a central system for all data transmission for the control centre and passenger information in one."
The system is based on a comprehensive system for data gathering and forwarding for all of De Lijn's operating regions, based in turn on the IVU.fleet traffic control system, which ensures a continuous flow of data from the vehicle to the control centre. Dispatch managers therefore always know the location of each of the roughly 3,200 vehicles on the road at one time. With a direct connection, the IVU.realtime background software transmits all departure information to the displays, websites and apps exact to the minute.
"De Lijn is an important reference client for us, with which we have enjoyed very productive and close cooperation since 2015," says Bastian Dittbrenner, the division manager responsible at IVU Traffic Technologies. "We are therefore delighted that we can now control the stop displays directly in IVU.suite and thus guarantee an optimum data supply."
IVU Traffic Technologies has been working for over 40 years with more than 700 engineers to ensure efficient and environmentally friendly public transport. IVU.suite's integrated standard products cover all bus and rail companies' processes: from planning, dispatching and operations controls to ticketing, passenger information and the settlement of transport contracts. By working in close partnership with our customers, we lead successful and ambitious IT projects and ensure reliable mobility in the world's metropolises.
IVU. SYSTEMS FOR VIBRANT CITIES.