Back
IT-Trans 2018: IVU presents innovations for e-mobility, mobile ticketing and digital working
First-ever hands-on version of the IVU.ticket.app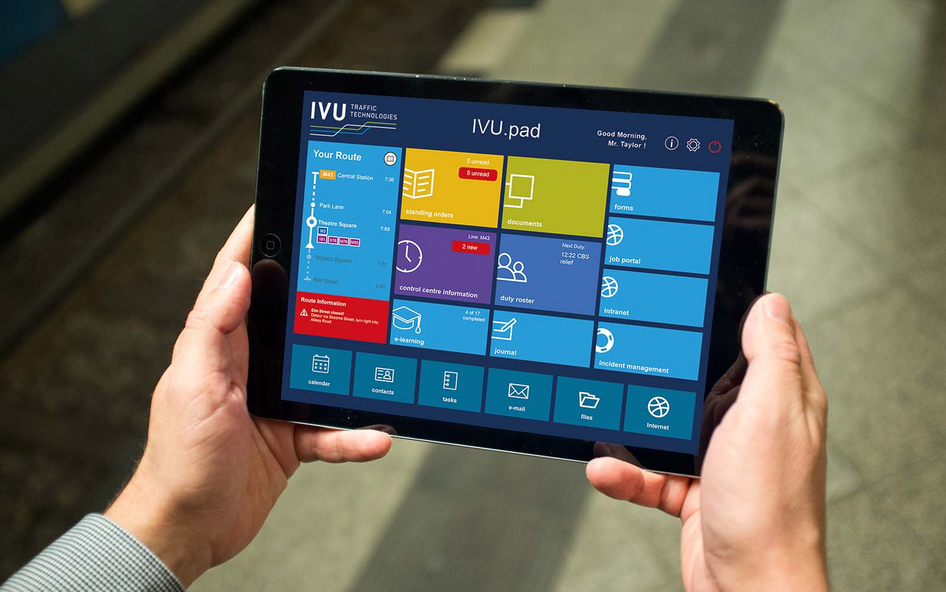 Berlin, 7 February 2018 | E-mobility is booming – and changing operations at transport operators. On stand B3 at this year's IT-Trans in the dm-arena, IVU Traffic Technologies is showcasing the solutions of the IVU.suite for using electric buses efficiently and integrating them seamlessly into day-to-day operations. Other products on display for the first time are the new IVU.ticket.app for buying tickets via smartphone, and a solution for cashless payment on buses. The IVU.pad, the digital workplace for drivers and mobile employees, also has lots of new functions. IT-Trans will be held in Karlsruhe from 6 to 8 March 2018.
E-ready with the IVU.suite
The IVU.suite, IVU's standard system for public transport, helps planners and dispatch managers to deploy electric buses efficiently. It knows the properties of the vehicles, the charging options and the route situations, and assists with suitable suggestions. The powerful optimisation core of the IVU.suite plans run schedules and duties automatically, ensuring maximum use of e-buses and optimum deployment of employees. Even before starting off, the IVU.suite helps with checking scenarios and selecting the right vehicle. IVU particularly focused on integrated management of e buses and buses with combustion engines: the system combines all vehicles in a single user interface and enables joint planning and dispatch.
Mobile ticketing and cashless payment
IVU is to unveil the new IVU.ticket.app for mobile ticketing at IT-Trans. The streamlined software comes complete with a connection search tool and generates VDV-KA-compliant barcode tickets for bus and rail travel. Users can easily log in via their existing Facebook or Google accounts and store their payment method directly in the app for fast ticket purchasing. When used with the settlement software IVU.fare, extensive evaluation functions are available to transport operators. In addition, the tried-and-tested on-board computer IVU.ticket.box is now equipped for cashless payment by credit card and debit card – and totally contactless payment without PIN entry is now also possible on request. It's so quick and easy: just hold the chip card in front of the scanner when boarding, wait for the beep and it's done.
Digital workflows with the IVU.pad
The IVU.pad, IVU's tablet software for digital communication with mobile employees, is coming to IT Trans with a host of new features. For instance, it now contains a fully digital service timetable that is constantly available to train drivers. In addition, the IVU.pad now has full offline capability: for example, in the integrated employee portal, duty schedules, personalised messages and important documents can be viewed even if the vehicle is in an area without signal reception. Interactive vehicle messages, for instance to make damage surveys easier, and a dynamic form editor with a direct connection to the back-end round off the digital workflow.
IVU Traffic Technologies has been working for over 40 years with more than 700 engineers to ensure efficient and environmentally friendly public transport. IVU.suite's integrated standard products cover all bus and rail companies' processes: from planning, dispatching and operations controls to ticketing, passenger information and the settlement of transport contracts. By working in close partnership with our customers, we lead successful and ambitious IT projects and ensure reliable mobility in the world's metropolises.
IVU. SYSTEMS FOR VIBRANT CITIES.