Back
IT-TRANS 2022: IVU focuses on alternative drive systems, digital workflows, and the new IVU.box.gateway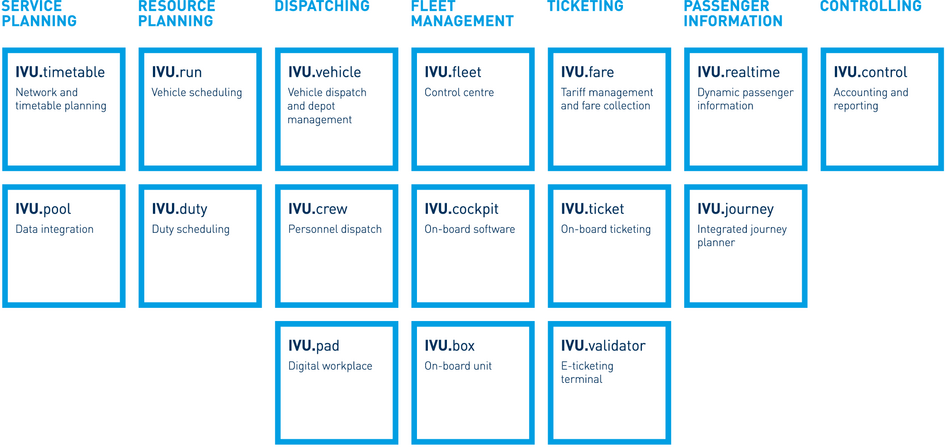 Berlin/Karlsruhe, 3 May 2022 | Exciting presentations, new products, and IVU experts from all areas – IVU Traffic Technologies will present the complete solution IVU.suite for alternative drive systems for buses and trains, as well as end-to-end digital workflows from planning to passenger information at the trade fair IT-TRANS 2022 in Karlsruhe . The Berlin-based IT specialist is also presenting the new IVU.box.gateway for all bus interfaces.
Planning and control of alternative drive systems
Whether electric or with hydrogen – the IVU.suite maps all work processes relating to the use of alternative drive systems for buses and trains. The complete system efficiently combines the planning, deployment, and operation of mixed fleets. From battery-powered electric buses and railways to hydrogen buses – no matter the manufacturer, all functions are available in a single interface. This makes the changeover easy, especially for operators of mixed fleets.
Digital workflow from vehicle to passenger
Reliable passenger information leads to satisfied passengers: unexpected delays can be frustrating for customers, whereas communicating delays early significantly increases perceived reliability. Customers with access to accurate real-time information have more control over their journey and can better plan their waiting time and possible connection trips. To harmonise passenger information, the control centre, and incident management, transport operators need an integrated application with consistent data flows – the IVU.suite. The complete solution automatically transmits real-time information suitable for customers from dispatch to the bus and rail customers via the connected specialist applications.
New gateway for all vehicle interfaces in the bus
With the IVU.box.gateway, on-board computer software runs on any end device – flexibly, cost-effectively, and with all relevant interfaces. Android tablets can thus be easily converted into a fully comprehensive on-board computer. Transport operators can replace the IT components in the bus according to their life cycle and never have to replace them completely – this separates long-lasting IT from short-term IT, which saves resources and costs.
IVU Traffic Technologies has been providing efficient and environmentally friendly public transport for over 45 years with more than 800 engineers. The integrated standard products of the IVU.suite map all the processes of bus and rail companies: from planning and dispatching to operations control, ticketing and passenger information, right through to the settlement of transport contracts. In close partnership with our customers, we lead demanding IT projects to success and therefore ensure reliable mobility in the metropolises of the world.
IVU. SYSTEMS FOR VIBRANT CITIES.