Back
IVU at InnoTrans 2022: IT for transport and the environment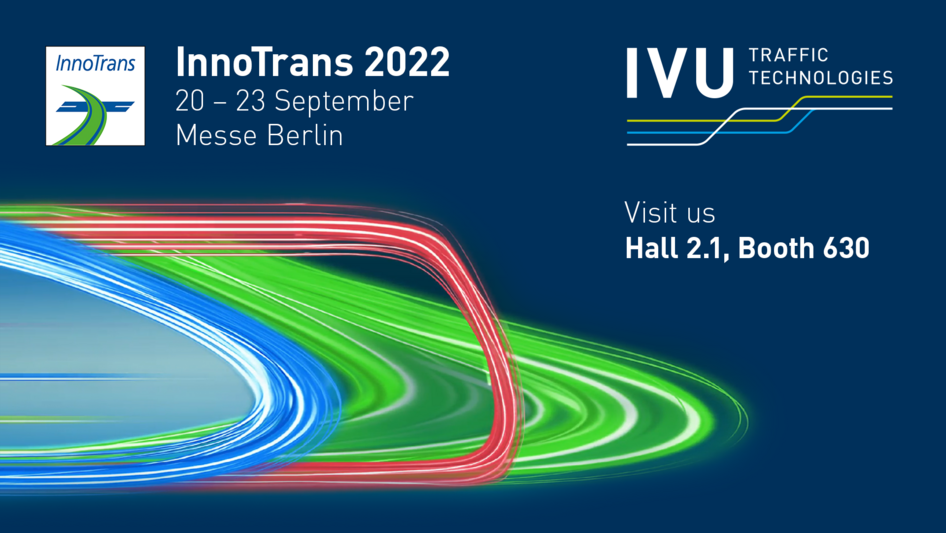 Berlin, 23 August 2022 | An integrated train control centre, alternative drive systems and world-leading optimisation algorithms are among the new features of the integrated complete solution IVU.suite for all processes of bus and rail companies that Berlin-based IT specialist IVU Traffic Technologies will be showcasing in Hall 2.1, Booth 630 at InnoTrans 2022. The world's top trade fair for transport technology is to be held in Berlin from 20 to 23 September.
Integrated rail control centre for comprehensive passenger information
Rail passengers expect quick, comprehensive, and consistent information that they can view at any time without any hassle. The European railway network is extremely busy, and upgrading infrastructure means engineering works and short-term disruption. That necessitates a host of temporary modifications to timetables. To ensure that passengers are kept reliably up to date, IVU is now offering its new rail control centre from IVU.rail, an integrated standard solution with a fully digital workflow, from timetable planning and incident management to passenger information. In addition to the extensive background system, railway companies benefit from new features such as a map display of vehicle positions or information on their condition.
Planning and managing alternative drive systems
Whether electric or hydrogen-powered, IVU.suite supports all processes and requirements involved in the use of alternative drive systems in buses and trains. In doing so, the complete system efficiently combines planning, deployment, and operation of mixed fleets. From battery-powered electric buses and railways through to hydrogen-powered fleets, all the functions are provided in a single user interface. For example, the integrated components can be used to produce consumption and range forecasts or to manage all charging processes with load, charging and depot management. This also makes changeovers easy for operators of mixed fleets.
Powerful optimisation, resource-saving automation
Planning vehicle schedules and duties is a demanding task – the ability to deploy all resources properly and as effectively as possible poses a real challenge. Yet making vehicle and duty schedules just a few percent more efficient can save bus operators and railway companies a lot of money. To achieve that, IVU uses its world-leading optimisation algorithms as well as the integrated automation tools of IVU.suite. This frees up numerous resources that can be utilised to offer significantly better performance. The optimisation features of IVU.suite also help in making efficient calculations and drawing up scenarios for quotations for transport tenders.
IVU Traffic Technologies has been providing efficient and environmentally friendly public transport for over 45 years with more than 800 engineers. The integrated standard products of the IVU.suite map all the processes of bus and rail companies: from planning and dispatching to operations control, ticketing and passenger information, right through to the settlement of transport contracts. In close partnership with our customers, we lead demanding IT projects to success and therefore ensure reliable mobility in the metropolises of the world.
IVU. SYSTEMS FOR VIBRANT CITIES.