Back
IVU equips buses with digital technology
First buses capable of IBIS-IP from the factory for Nahverkehr Schwerin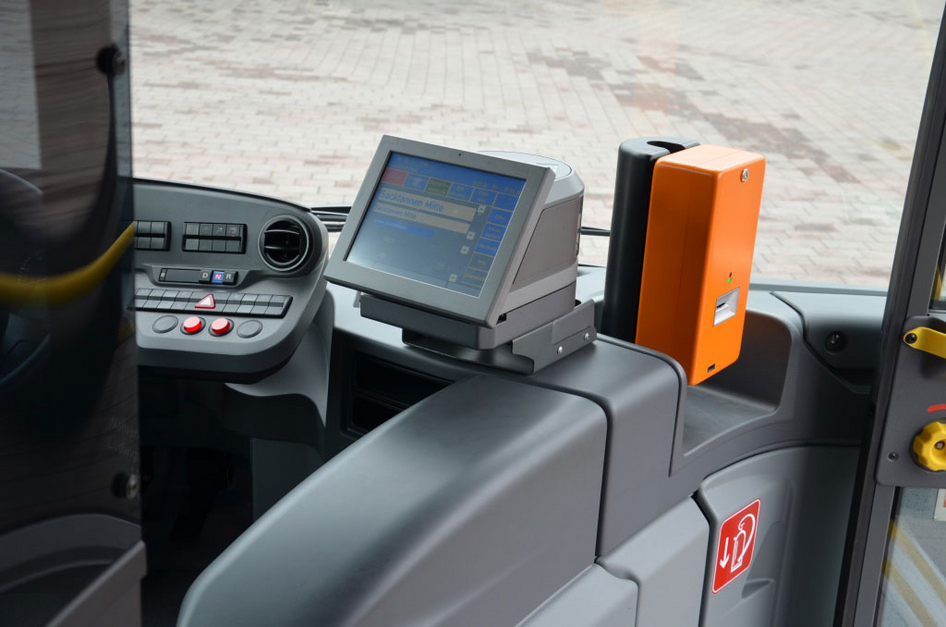 Berlin, 20 December 2016 | Future-proof on-board communication with the latest technologies is what Nahverkehr Schwerin GmbH obtained with its 32 new low-floor city buses from Daimler AG that were delivered in September. All vehicles were already equipped with network technology and components that comply with the IBIS-IP standard upon delivery. IVU Traffic Technologies AG provided all of the communications technology.
In addition to project planning, IVU was also responsible for implementing further vehicle components. The IVU.ticket.box is being used as the central on-board computer that networks the entire vehicle environment. It provides the connected devices such as the exterior and interior displays and the video recording systems with the necessary data via IBIS-IP, thereby enabling Nahverkehr Schwerin to provide detailed passenger information in the buses. The IVU.ticket.box ensures an optimum connection to the control centre via LTE/VoIP, allowing real-time data, messages and other live information to be received and processed.

Thanks to the system architecture from IVU, series-production buses now feature full IBIS-IP capability from the factory for the first time. With this standard, numerous services, including on-board computers, digital displays, ticket machines, radio data transmission and others, have sufficient bandwidth for reliable data exchange. The flexible IP technology also allows Nahverkehr Schwerin to integrate additional devices quickly and easily.

"We are delighted that we are able to contribute our expertise to help with the implementation of IBIS-IP," said Sven Emmrich, the project manager responsible at IVU Traffic Technologies AG. "The growing demand shows that transport operators are increasingly coming to appreciate the advantages of the protocol."

The IBIS-IP standard entered into force with the publication of VDV paper 301 in 2014. As part of the VDV's IP-KOM-ÖV research project, IVU took a leading role in the development of the new IBIS-IP standard. IVU was also the first company to actively roll out the new project on a global scale. To honour this commitment, the VDV presented IVU with the itcs Innovations Award in 2015.
IVU Traffic Technologies has been working for over 40 years with more than 700 engineers to ensure efficient and environmentally friendly public transport. IVU.suite's integrated standard products cover all bus and rail companies' processes: from planning, dispatching and operations controls to ticketing, passenger information and the settlement of transport contracts. By working in close partnership with our customers, we lead successful and ambitious IT projects and ensure reliable mobility in the world's metropolises.
IVU. SYSTEMS FOR VIBRANT CITIES.