Back
IVU: fleet management for the Transdev Group companies
All-in-one system commissioned for ITCS, ticketing and real-time data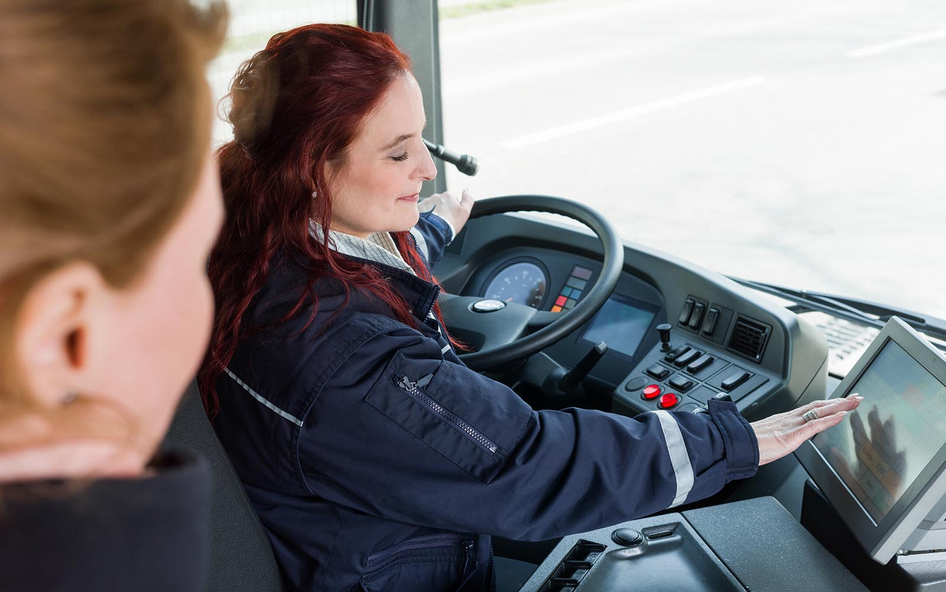 Berlin, 27 August 2019 | A single software program for seven companies: thanks to a new all-in-one system from IVU Traffic Technologies, the Transdev Group – Germany's largest private mobility provider – is taking another step towards standardising its processes. To help with this, the Berlin-based IT specialist for public transport has supplied the standard IVU.suite products for fleet management and ticketing, including on-board computers.
Transdev GmbH, the largest private operator of bus and railway services in Germany, has been using the IVU.suite for some time now to efficiently schedule, deploy and manage its vehicles and employees. Another milestone has now also been reached: seven subsidiaries operating around 450 buses in Rhineland Palatinate and eastern Germany have commissioned an integrated, all-in-one system for ITCS and ticketing.
The hub that ensures the continuous data flow from the bus to settlement procedures is the tried-and-tested IVU.ticket.box on-board computer, which has been installed in all vehicles. The device continuously records the bus position data and transfers this to the IVU.fleet ITCS, which, in turn, forwards this data so that it can be used for real-time information. For simpler payroll accounting, the actual number of hours worked by drivers can now for the first time be recorded and transferred to the IVU.crew duty scheduling system.
Graphical guidance in the IVU.cockpit on-board computer software means that drivers can always find their way, even on new routes. They can also speak to the control centre via VoIP. The Transdev companies manage the ticketing data in the IVU.fare background system and can transfer this at the click of a button to the IVU.ticket ticketing software on the on-board computers.
"As the largest private mobility provider in Germany, we need uniform and standardised processes across the company," says Henrik Behrens, Managing Director for the bus division at Transdev GmbH. "Thanks to the IVU.suite, we can largely align and centrally manage our processes. This allows us to achieve a very high level of efficiency and makes life easier for our employees. The now completed project acceptance is a major step for us towards equipping other operators with the IVU system over the next few years and positioning them optimally for future growth and the challenges on the market."
"We are proud to support the Transdev Group in integrating its growing corporate group with our IVU.suite products," says Bastian Dittbrenner, Head of the Public Transport division at IVU Traffic Technologies. "During the many years of close collaboration, we have developed a number of solutions that have been incorporated in our standard product – and now benefit all our customers."
IVU Traffic Technologies has been working for over 40 years with more than 700 engineers to ensure efficient and environmentally friendly public transport. IVU.suite's integrated standard products cover all bus and rail companies' processes: from planning, dispatching and operations controls to ticketing, passenger information and the settlement of transport contracts. By working in close partnership with our customers, we lead successful and ambitious IT projects and ensure reliable mobility in the world's metropolises.
IVU. SYSTEMS FOR VIBRANT CITIES.