Back
IVU: Integrated resource planning for Abellio
Test operation under way in the Saale-Thüringen-Südharz network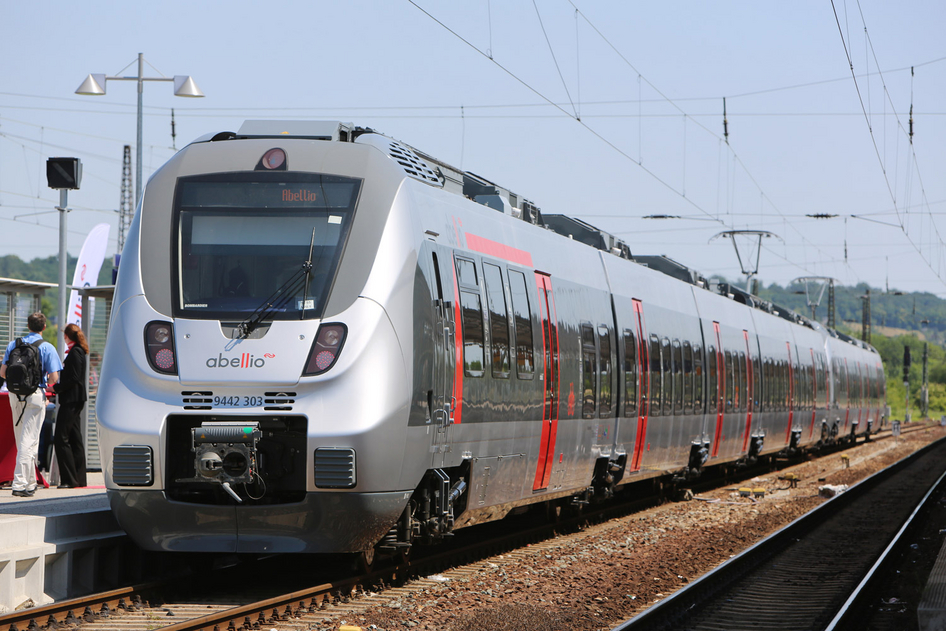 Berlin, 18 August 2015 | Optimum deployment of vehicles and staff is assured when Abellio Rail Mitteldeutschland GmbH assumes operation of the Saale-Thüringen-Südharz network (STS) in December 2015. The private railway company has already started planning and dispatching its resources with software provided by Berlin-based IVU Traffic Technologies AG.
Preparations are in full swing: from 13 December 2015, Abellio will be operating ten lines with a total length of 575 km between the German states of Saxony-Anhalt, Thuringia, Saxony, Lower Saxony and Hesse. 35 new trains and 350 employees will ensure that the approx. 8.5 million passengers per year reach their destination on time and in comfort. To deploy vehicles, drivers, on-board personnel and the staff at customer service centres and workshops efficiently, Abellio uses the integrated standard solution IVU.rail, which is specifically geared towards railway companies' requirements.
IVU provided the complete system within just a few weeks from commencement of the project in June 2014. By April 2015, Abellio had already started schedule, duty and staff roster planning for the 2016 timetable year. In addition, the IVU.rail dispatching module went live in July. The system assists planners and dispatchers in resource planning with numerous automation functions and a flexible rule engine. A mobile employee portal ensures straightforward, paperless communication. This means that, in future, drivers and on-board personnel will be able to register commencement of their shift online and confirm tasks completed during their shift. As a result, tasks can be recorded in the system and documented centrally more quickly.
Dirk Ballerstein, Managing Director of Abellio Rail Mitteldeutschland, said: "What particularly impressed us about IVU.rail was the level of integration of its modules and its product maturity. We are now ideally equipped for commencement of operations in the STS network and prepared for potential expansions in the future." Perry Prust, the responsible member of the IVU Management Board, stated: "We are delighted to have gained an important customer with a strong position on the German railway market in Abellio Rail Mitteldeutschland. This underlines the quality of our system and our recognised expertise as a leading provider of integrated IT systems."
Abellio Rail Mitteldeutschland GmbH is part of the German group Abellio GmbH, which serves the German market with high levels of innovation and quality. Based in Berlin, the company operates rail networks throughout Germany. For instance, since 2007, it has been operating the network in North Rhine-Westphalia, which currently carries around 12 million passengers per year, covering 5.6 million train kilometres. Further services will be added in the next few years, including parts of the Rhine-Ruhr Express (RRX) from 2018.
IVU Traffic Technologies has been working for over 40 years with more than 700 engineers to ensure efficient and environmentally friendly public transport. IVU.suite's integrated standard products cover all bus and rail companies' processes: from planning, dispatching and operations controls to ticketing, passenger information and the settlement of transport contracts. By working in close partnership with our customers, we lead successful and ambitious IT projects and ensure reliable mobility in the world's metropolises.
IVU. SYSTEMS FOR VIBRANT CITIES.