Back
IVU: Mobile ticketing for Stadtverkehr Detmold
Using the smartphone as a ticket with the IVU.ticket.app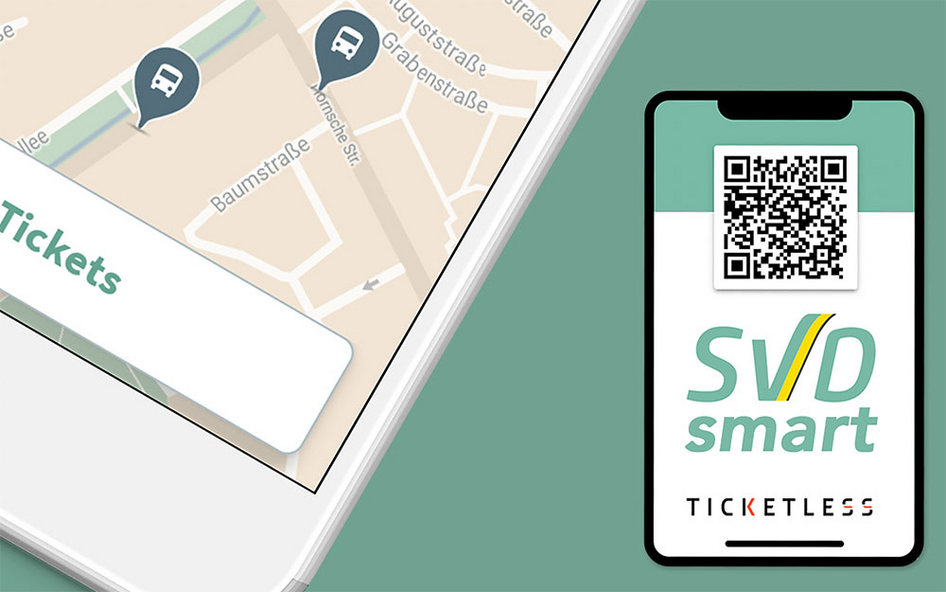 Berlin/Detmold, 28 November 2018 | Smartphone instead of change: Stadtverkehr Detmold passengers can now use their mobile device to buy tickets and validate trips. This new service is based on the IVU.ticket.app from Berlin-based IT specialist IVU Traffic Technologies and London-based tech start-up UrbanThings.
Stadtverkehr Detmold operates eight routes across the city centre, conveying around 5.5 million passengers per year. The SVDsmart app allows customers to buy a ticket directly on their smartphone. When boarding, they simply hold the digital QR code in front of the reading device to validate their ticket. Customers just need to register once before making their first purchase. The company can then easily manage the accounts and invoices in the fare management system IVU.fare. Everything else is done on the users' devices. This minimises maintenance and costs.
"The app has proved to be a highly attractive product for Stadtverkehr Detmold and is ideal for offering simple smartphone-based mobile ticketing," says Wolfgang Janz, Managing Director of Stadtverkehr Detmold GmbH. "Despite the numerous tasks involved in adapting the app for the German public transport market, the app was launched after a very short preparation period thanks to the professional and dedicated project management of UrbanThings and strategic partner IVU."
"With the envisaged upgrades, the app will soon become the key element of Stadtverkehr Detmold's digital sales strategy," adds Wolfgang Janz. From May 2019, a check-in/be-out solution will make boarding even easier: Passengers will simply scan a code in the entrance area to validate themselves. There will be no separate ticket transaction. Instead, IVU.fare will automatically calculate the lowest fare on the basis of the best-price model.
"Our IVU.ticket.app is a simple, low-cost introduction to mobile ticketing, particularly for small and medium-sized transport operators," says Bastian Dittbrenner, the division manager responsible at IVU Traffic Technologies. "They can use it to create a modern service for their customers, even if the transport association does not offer a corresponding solution."
Carl Partridge, Managing Director of UrbanThings, adds: "We are delighted and proud to have gained Stadtverkehr Detmold as our first customer in Germany. Having already made a successful start in Bristol and Avenmouth, we now aim to interest further German customers in the performance and added value of our ticketless app along with our partner IVU."
IVU Traffic Technologies has been working for over 40 years with more than 700 engineers to ensure efficient and environmentally friendly public transport. IVU.suite's integrated standard products cover all bus and rail companies' processes: from planning, dispatching and operations controls to ticketing, passenger information and the settlement of transport contracts. By working in close partnership with our customers, we lead successful and ambitious IT projects and ensure reliable mobility in the world's metropolises.
IVU. SYSTEMS FOR VIBRANT CITIES.