Back
IVU partners with UrbanThings
Development of groundbreaking transport ticketing platform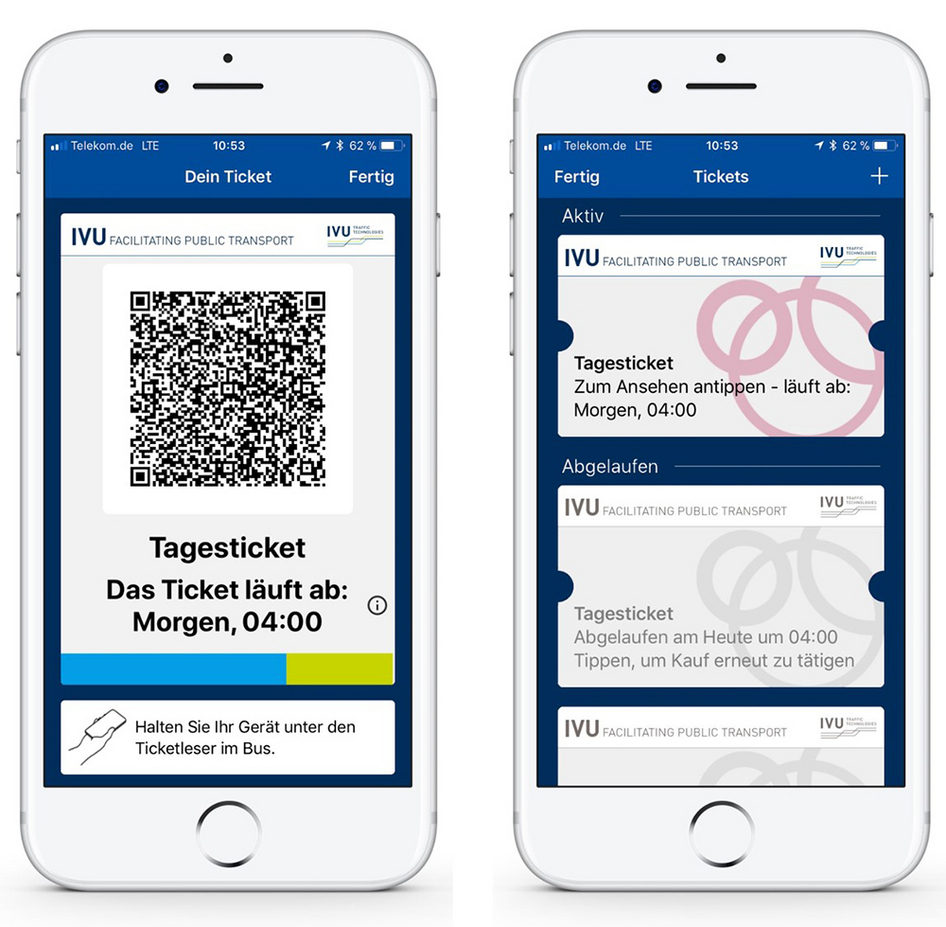 Berlin/London, 2 May 2018 | UK transport technology company UrbanThings has formed a strategic partnership with German transport IT specialist, IVU Traffic Technologies. The agreement will see UrbanThings' m-Ticketing solution Ticketless™ distributed as part of IVU's comprehensive public transport software, IVU.suite. The companies will work together to integrate the two platforms more closely.
Ticketless is a Smart Ticketing platform for public transport that enables operators to lower their costs by removing on-vehicle hardware and using passengers' smart devices as travel token validators instead.
The new system provides 'Be-in/Be-Out' travel, which means that passengers can board vehicles while keeping their phones in their pockets. The Ticketless app will communicate with Bluetooth beacons to track journeys and manage fare collection. The same technology will allow operators to monitor vehicle occupancy in real-time.
The product is already seeing considerable interest, with its first live deployment this month in Bristol, UK and advance orders now being received.
IVU supplies transport planning and fleet management software to major transport operators in Germany and throughout Europe, including DB Regio, Transdev, Trenitalia, PostBus and Connexxion. Ticketless augments IVU's existing suite of transport solutions, becoming the company's first m-Ticketing component. IVU will market Ticketless as IVU.ticket.app, allowing transport operators to customise the app's design to their specific needs.
UrbanThings CEO, Carl Partridge said: "I like to describe Ticketless as a sort of 'Amazon Go' for public transport! I firmly believe that the future of transport ticketing involves less reliance on costly hardware. We're delighted to be partnering with IVU to deliver this innovative new form of mobile ticketing to operators throughout Europe."
Matthias Rust, CTO of IVU Traffic Technologies said: "Transport operators worldwide are looking for ticketing solutions that are intuitive and easy to use while at the same time are inexpensive and quick to implement. We are happy that through our partnership with UrbanThings we are now able to offer our over 500 customers such a platform, which also fully integrates with their existing system environment."
IVU will supply Ticketless alongside IVU.suite. The technology has already featured in live demos at IT-TRANS and the IVU User Forum, and will be available to test at InnoTrans 2018 and other upcoming conferences. Interested parties are invited to learn more at www.ticketless.travel.
IVU Traffic Technologies has been working for over 40 years with more than 700 engineers to ensure efficient and environmentally friendly public transport. IVU.suite's integrated standard products cover all bus and rail companies' processes: from planning, dispatching and operations controls to ticketing, passenger information and the settlement of transport contracts. By working in close partnership with our customers, we lead successful and ambitious IT projects and ensure reliable mobility in the world's metropolises.
IVU. SYSTEMS FOR VIBRANT CITIES.
UrbanThings is a London-based technology startup specialising in intelligent mobility. Founded in 2011, it first caught the public's attention with the Bus Checker suite of apps, which brought live departure times and journey planning to users in major cities worldwide. The company also runs the public transport arm of Bristol City Council's open data platform.