Back
IVU receives itcs Innovation Award 2015
Award for first productive launch of IBIS-IP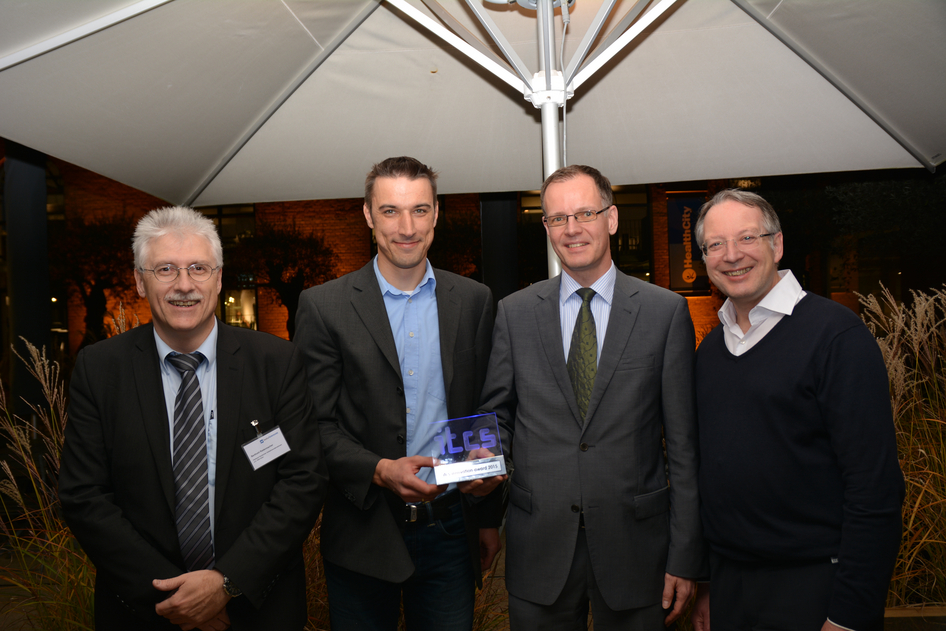 Berlin, 27 October 2015 | This year's itcs Innovation Award goes to IVU Traffic Technologies AG. The Association of German Transport Companies (VDV) has thus honoured the driving role played by IVU in the development and introduction of the new standard for vehicle communication IBIS-IP. As is tradition, the ceremony took place at the beka itcs Autumn Seminar in Cologne on 21/22 October 2015.
Hartmut Reupke (Berliner Verkehrsbetriebe, BVG) from the VDV's itcs sub-committee presented the award. In his honorific speech, Berthold Radermacher, Head of Telematics, Information and Communications Technology at VDV, particularly praised IVU's courage in putting the new protocol into practice early on and thereby promoting its propagation. IVU is the first company to actively roll out IBIS-IP with customers. Thus, IVU engineers implemented an advance version of the standard even during its development phase in Budapest with a mixed fleet of more than 2,500 vehicles. The final protocol is being used in more than 400 vehicles by the private bus operator Superbus Ltd. in Israel, and its implementation with further customers – including in Germany – is planned for 2016.
Dr Claus Dohmen, Head of Product Management at IVU Traffic Technologies AG, said: "We are proud to be able to take home the itcs Innovation Award 2015. We are especially delighted that our long-running campaign for open and standardised products and interfaces is being honoured. This is a validation of our strategy. Moving ahead as well, we will keep on pushing for compatibility and interoperability between different systems."
As part of the VDV's IP-KOM-ÖV research project, IVU took a leading role while working with industry partners on the development of IBIS-IP, which is replacing the IBIS (Integrated On-Board Information System) standard now more than 30 years old. The specifications stipulate how the on-board computers in public transport vehicles exchange data with peripheral devices – such as internal and external displays, passenger announcements or ticket-stamping machines. The successor IBIS-IP uses state-of-the-art technology such as the standardised Internet protocol to facilitate flexible data transfer that meets contemporary standards in buses and trams.
The itcs Innovation Award has been presented annually since 2005 at the autumn convention of the VDV's itcs sub-committee. It is awarded to industry, transport operators and deserving individuals.
IVU Traffic Technologies has been working for over 40 years with more than 700 engineers to ensure efficient and environmentally friendly public transport. IVU.suite's integrated standard products cover all bus and rail companies' processes: from planning, dispatching and operations controls to ticketing, passenger information and the settlement of transport contracts. By working in close partnership with our customers, we lead successful and ambitious IT projects and ensure reliable mobility in the world's metropolises.
IVU. SYSTEMS FOR VIBRANT CITIES.