Back
IVU user forum: Ready for e-mobility
Record attendance: Around 600 participants discuss electrification of public transport and the transport trends of tomorrow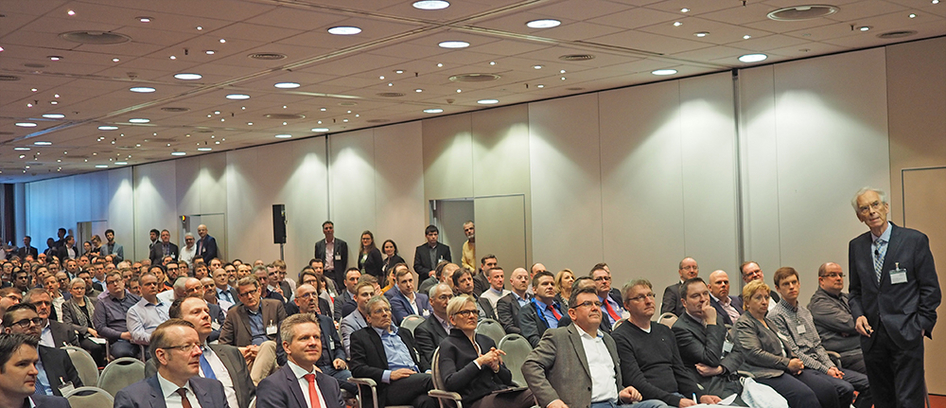 Berlin, 22 March 2018 | Practically all German transport operators are considering buying electric buses. E-mobility also dominated the 30th user forum hosted by IVU Traffic Technologies on 19/20 March 2018 in Berlin. Participants from all over the world were interested in IVU's latest solutions for efficient deployment of e-buses. In addition, a host of further presentations addressed current trends in areas such as ticketing, cashless payment and autonomous driving.
Transport expert Prof. Adolf Müller-Hellmann opened the user forum with a passionate keynote in favour of electric mobility. The age of diesel-powered vehicles was foreseeable over. He set the mood for the two days of the event with an overview of the different concepts and possibilities to operate e-buses. In the subsequent presentations, representatives of transport operators and vehicle manufacturers reported on the challenges and solutions of the "electric bus system" and their experience of day-to-day operation. Dr Claus Dohmen, Head of Research and Education at IVU, presented the latest functions of the IVU.suite for integrated planning and fleet management of electric and conventional buses, emphasising that it is not too early for operators to make ideal preparations for e-mobility.
Digitalisation remains a major issue. For instance, high-calibre international speakers told of their switch to a software-as-a-service model, outlined a ticketless future courtesy of automatic settlement and looked ahead to the use of autonomous vehicles for the "last mile". User groups and workshops enabled in-depth discussions on various specialist topics. At the accompanying exhibition, the participants, who had travelled from as far afield as Norway, Canada, South Africa and Argentina, learned about IVU's latest developments in the hands-on sector – such as the powerful optimisation tools, the IVU.ticket.app, the IVU.ticket.box for cashless payment and the IVU.pad.
"We are proud that our user forum attracts so many guests from all over the world who find a platform for discussing current and future industry issues here," said Martin Müller-Elschner, CEO of IVU. "The new record attendance illustrates the fact that our range of products and services is right in tune with the times. Transport operators need integrated solutions more and more – and we deliver them."
IVU Traffic Technologies has been working for over 40 years with more than 700 engineers to ensure efficient and environmentally friendly public transport. IVU.suite's integrated standard products cover all bus and rail companies' processes: from planning, dispatching and operations controls to ticketing, passenger information and the settlement of transport contracts. By working in close partnership with our customers, we lead successful and ambitious IT projects and ensure reliable mobility in the world's metropolises.
IVU. SYSTEMS FOR VIBRANT CITIES.