Back
IVU.crew: Individual and optimised duty allocation for STI Bus AG
Automatic personnel dispatch leads to higher efficiency and happy employees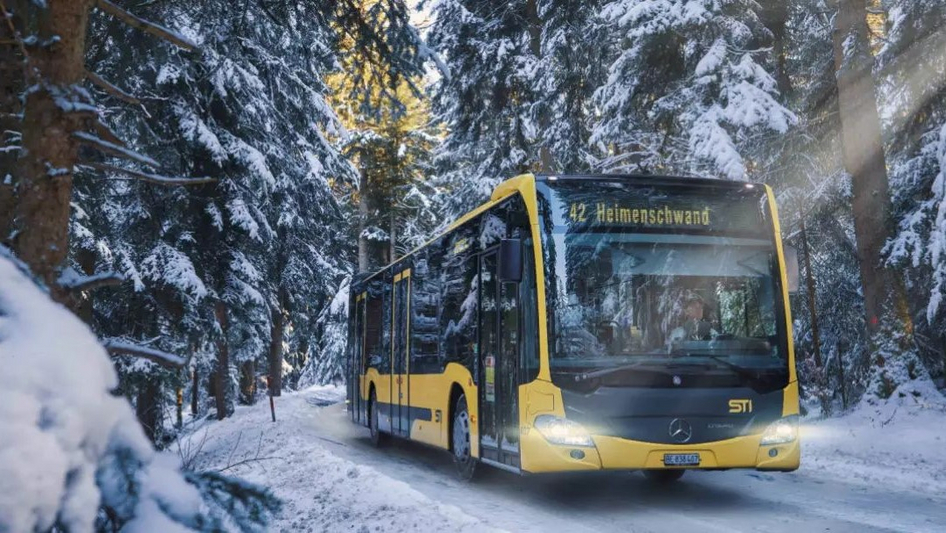 Berlin/Thun, 8 February 2022 | Flexible personnel deployment, optimal duty allocation, high satisfaction levels – thanks to IVU.crew, STI Bus AG can easily and efficiently dispatch all their drivers. The integrated employee portal ensures satisfied employees who can easily submit requests, swap duties, and request annual leave.
The picturesque town of Thun can be found by Lake Thun, just in front of the Swiss Alps. STI Bus AG (STI)'s 260 drivers ensure that reliable and customer-friendly local public transport is available in the town and the region around Castle Thun every day. In order to dispatch their drivers as efficiently as possible, STI has replaced their existing software with the integrated personnel dispatch solution IVU.crew.
IVU.crew supports STI's dispatchers in deploying all their personnel in accordance with their qualifications, requests, and company agreements, as well as helping them react flexibly to staff shortages. Thanks to the individualised duty allocation (IDA) employees can also place specific duty requests, which the automatic personnel dispatch (APD) then takes into account as much as possible. This increases both the employee satisfaction and the overall efficiency. If drivers want to swap a duty or a day off after the allocation, they can use the swap platform in the employee portal for this.
"Since we introduced IVU.crew our employee satisfaction has risen significantly," said Erich Seiler, Chief Operating Superintendent at STI Thun. "This is mainly due to the individualised duty allocation, which enables our colleagues to take on the majority of their preferred duties thanks to a very high degree of fulfilment."
"We are delighted that IVU.crew hasn't just increased the effficiency and transparency in the dispatch, but has also significantly increased driver satisfaction," said Marc Schaffert, CEO of IVU Traffic Technologies Schweiz. "Stable, efficient and, most importantly, fair duty schedules are one of the most important factors for seamless public transport – and this is exactly what IVU.crew stands for."
IVU Traffic Technologies has been providing efficient and environmentally friendly public transport for over 45 years with more than 700 engineers. The integrated standard products of the IVU.suite map all the processes of bus and rail companies: from planning and dispatching to operations control, ticketing and passenger information, right through to the settlement of transport contracts. In close partnership with our customers, we lead demanding IT projects to success and therefore ensure reliable mobility in the metropolises of the world.
IVU. SYSTEMS FOR VIBRANT CITIES.