Back
KCEFM: Analysis of e-tickets via app from IVU
eTicketinfo 2.0 supports quality assurance in accordance with VDV-KA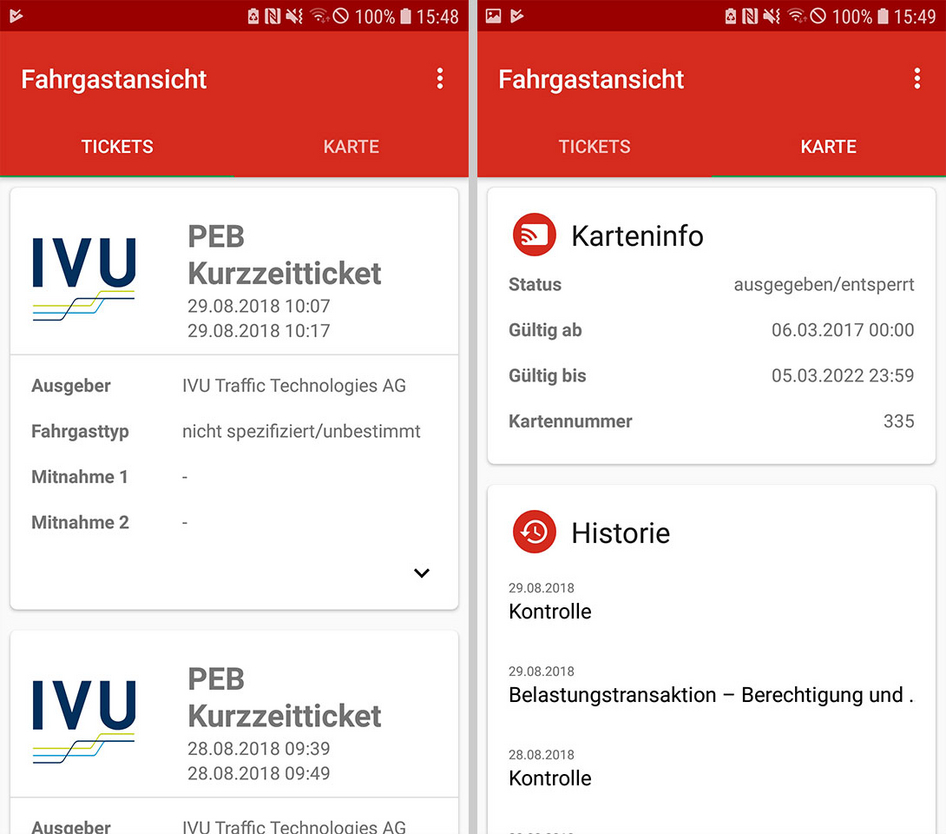 Berlin/Cologne/Gelsenkirchen, 9 November 2018 | What data does an e-ticket include? How long is it valid? Why does the reading device report an error? The eTicketinfo 2.0 app from the electronic fare management North Rhine-Westphalia competence centre provides answers. The free app, which is now available for download, was developed by IT specialist IVU Traffic Technologies.
eTicketinfo allows electronic tickets – barcode tickets and smart cards – to be read quickly and easily. All that is required is a current Android smartphone that has a camera and supports NFC. Thus, transport associations and companies as well as passengers can now check what is stored on an electronic ticket. eTicketinfo analyses the data using the VDV-KA standard and gives a structured overview of the contents. For example, users can see at a glance how long and in which region a ticket is valid and what data is stored. This ensures transparency.
The app also allows ticket blanking data to be shown. For example, suppliers can use this to analyse defective tickets and check whether data structures conform to the applicable standards. In particular, this makes eTicketinfo suitable for quality assurance, for example when it comes to introducing new tariff products, sales systems or smart cards.
"With eTicketinfo 2.0, we are providing our partners – associations and transport operators in North Rhine-Westphalia and their customers – with a simple tool to check the data integrity of electronic tickets," says Gabriele Dorweiler, project manager at KCEFM. "We intend for it to make it easier for transport service providers to comply with VDV standards to standardise the data structure of e-tickets nationwide. In the future, passengers will be able to use their tickets across all networks throughout NRW."
"As an advocate of industry-wide standards for many years, we are pleased to support KCEFM in the statewide standardisation and quality assurance of e-ticketing in North Rhine-Westphalia," says Henrik Benner, division manager at IVU Traffic Technologies in Aachen. "Using the solutions of our IVU.suite, transport operators and associations handle several million transactions each day. This order again underlines the competence and expertise of IVU in the issues relating to the future of ticketing and fare management."
The app is available for free on the Google Play Store.



IVU Traffic Technologies has been working for over 40 years with more than 700 engineers to ensure efficient and environmentally friendly public transport. IVU.suite's integrated standard products cover all bus and rail companies' processes: from planning, dispatching and operations controls to ticketing, passenger information and the settlement of transport contracts. By working in close partnership with our customers, we lead successful and ambitious IT projects and ensure reliable mobility in the world's metropolises.
IVU. SYSTEMS FOR VIBRANT CITIES.


The Kompetenzcenter Elektronisches Fahrgeldmanagement was founded in 2002 by the state North Rhine-Westphalia to support transport operators and associations with the introduction and further development of fare management systems. In order to fulfil this task, we assume different roles: We assist associations and operators as consultants and project managers. We collect and distribute experiences and information about the eTicket. As part of the VRR transport association, KCEFM considers itself as a partner for all transport operators, authorities and associations in North Rhine-Westphalia. It is one of five competence centres in the state.