Back
PostBus uses IVU software for planning throughout Switzerland
Integrated planning and dispatching environment IVU.suite introduced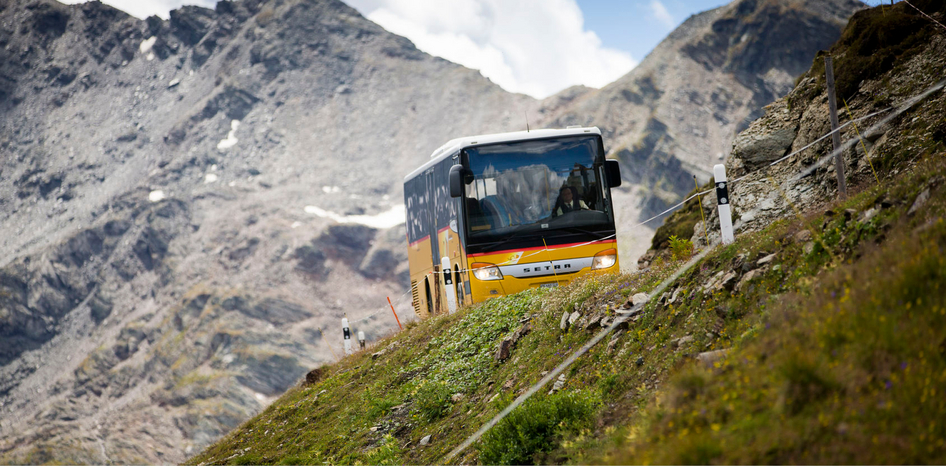 Berlin, 7 June 2017 | The post bus is part of Switzerland's cultural identity: There is hardly a village where the yellow buses are not seen and the characteristic sound of the three-tone horn is not heard. PostBus Switzerland AG has now introduced IVU.suite from IVU Traffic Technologies AG, providing all ten of its regions in Switzerland and Liechtenstein with a standardised system for the integrated planning and dispatching of vehicles and staff for the first time.

For more than 100 years, the PostBus brand has ensured reliable and safe public transport in Switzerland, from the large agglomerations all the way to the remotest regions in the Alps. With a transport volume of more than 150 million passengers annually, PostBus Switzerland AG is the largest bus company in the country today. From now on, the various operating regions will be using the integrated modules of IVU.suite for planning and dispatching the roughly 3,000 drivers and 2,200 vehicles in a standardised way.
The standard software from IVU is replacing an outdated piece of software at PostBus, which no longer satisfied modern-day requirements. The powerful integrated vehicle and duty scheduling in particular supports the planners in their work. It makes it easier to create efficient and resource-saving vehicle runs and duties. Moreover, automatic personnel dispatch ensures that the duty schedules for the drivers are balanced and fair. Thanks to the fact that the rules allow flexible editing, it also takes into account the respective special features with regard to payroll rules and work agreements in the individual regions automatically. The drivers can use the browser-based employee portal to view their duties and send their requests to dispatch via stationary computers and also tablets in the future.
"IVU.suite has enabled us to roll out a solution throughout Switzerland and to establish uniform standardised processes. Nevertheless, we are still flexible where necessary," explained Jean-Pierre Boillat, Head of Production Projects at PostBus Switzerland AG. "It allows us to considerably increase our efficiency, reduce our costs and thereby ensure that PostBus retains its competitiveness in the future." Perry Prust, Head of the Public Transport Planning division at IVU Traffic Technologies AG, added: "We are very proud to be working together with PostBus. The successful introduction of IVU.suite in such a complex environment emphasises our software's high level of standardisation. Our leading optimisation components enable PostBus to respond to market requirements with even greater flexibility and to further expand its services."
IVU Traffic Technologies has been working for over 40 years with more than 700 engineers to ensure efficient and environmentally friendly public transport. IVU.suite's integrated standard products cover all bus and rail companies' processes: from planning, dispatching and operations controls to ticketing, passenger information and the settlement of transport contracts. By working in close partnership with our customers, we lead successful and ambitious IT projects and ensure reliable mobility in the world's metropolises.
IVU. SYSTEMS FOR VIBRANT CITIES.