Back
New Generation of the IVU.ticket.box
All-in-one device for ticket sales, ticket inspections and coordination of vehicle operation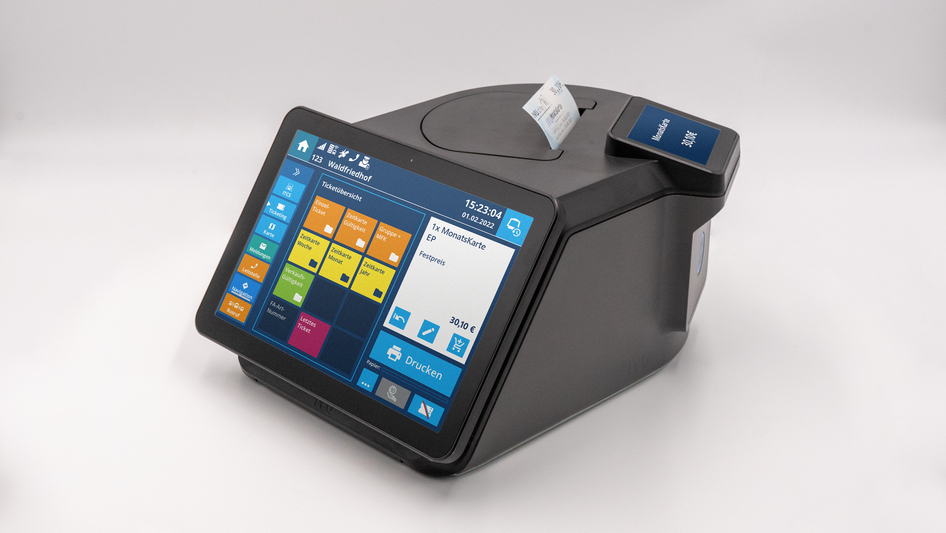 Berlin/Aachen, 14 February 2023 | Durable, powerful, high-performance – IVU Traffic Technologies is launching a comprehensively modernised fifth generation of the on-board computer IVU.ticket.box. The all-in-one device provides all the functions needed for integrated processing of ticket sales and inspections as well as coordinating the vehicle operation.
For more than 12 years transport operators have been successfully using the IVU.ticket.box as a digital dashboard in buses – to sell and inspect tickets, to communicate with the control centre, and to control the on-board electronics. Now Germany's best-selling on-board computer is entering the next generation with significantly more power and a modular structure.
The fifth generation of IVU.ticket.box offers even better performance, high-value components, and optimal usability – with minimal conversion effort. The device is not sensitive to water or dirt, and is modularly structured. Thanks to the replacable modules it is equipped for at least ten years of demanding usage in regular service.
In order to relieve the pressure on drivers and accelerate bus boarding, passengers have the option of contactless payment and scanning for both electronic and barcode tickets. The on-board computer displays all relevant information on the customer display, prints the tickets and processes even the most demanding ticket data without any problems.
In addition, the modular IVU.box.gateway equips the IVU.ticket.box with all interfaces required to connect the entire periphery in the vehicle, such as the audio and LSA analogue radio devices, the door control, the CAN bus data, and the IBIS and IBIS-IP devices. Drivers can use the interface quickly and intuitively during hectic everyday situations thanks to the non-reflective touch display, which allows optimum visibility in all lighting conditions.
"The fifth generation of our IVU.ticket.box modernises the bus's entire digital dashboard," said Dr Falko Hagebölling, Head of Development Operations at IVU Traffic Technologies. "I am delighted that we can now offer our customers more improvements to tried-and-tested concepts as well as the significantly improved performance."
IVU Traffic Technologies has been providing efficient and environmentally friendly public transport for over 45 years with more than 800 engineers. The integrated standard products of the IVU.suite map all the processes of bus and rail companies: from planning and dispatching to operations control, ticketing and passenger information, right through to the settlement of transport contracts. In close partnership with our customers, we lead demanding IT projects to success and therefore ensure reliable mobility in the metropolises of the world.
IVU. SYSTEMS FOR VIBRANT CITIES.