Back
A-Welle: integrated multi-tenant system
Efficient, resource-friendly und cost-saving: integrated mutli-tenant system with BOGG, Regionalbus Lenzburg and AVA (Limmat Bus)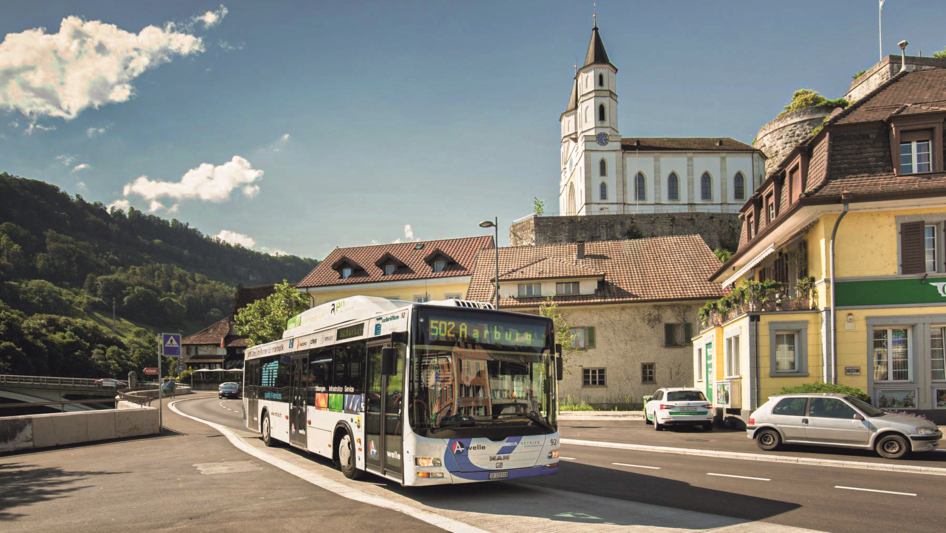 All-round solution for continuous flow of data
Standardised real-time data, efficient connections and reliable passenger information: Integrated IT systems that establish a continuous flow of data are the key to successful transport operations. Together with the A-Welle companies BOGG, Regionalbus Lenzburg and AVA (Limmat Bus), IVU has therefore implemented an integrated multi-tenant system for Switzerland, which can be flexibly expanded to include other transport operators. The system provides pertinent support for all fields of activity from planning to ticket sales and helps the participating companies to increase their operating efficiency while further improving employee satisfaction and the quality of their services for passengers.
---
"IVU offered us an integrated system that met all of our needs from planning to ticket sales. Just now in the current coronavirus pandemic, we were able to provide all vehicles with the necessary information within a week – a process that used to take several weeks. This tied up fewer resources and ultimately reduced costs."
IVU client system at a glance

Future-proof system: Meets all of the Swiss Federal Office of Transport's standards for regional public transport and the quality measurement system and is updated annually
Seamless connection: Ensures smooth integration with IVU.suite and peripheral systems via standard interfaces
Efficient fleet and resource management: Enables manually and automatically optimised dispatch actions (strengthening trips, short turnarounds, detours, etc.) and integrated planning
Modern on-board computer: Has integrated voice communication (e.g. VoIP) and high-speed data communication and is fully integrated into the vehicle via IBIS and IBIS-IP
Reliable passenger information: Is directly linked to the data hub and the customer information system CUS and controls stop displays
User-friendly ticket sales: Supports the sale of paper tickets and e-tickets (incl. contactless card payment) as well as company-specific and nationwide tickets via NOVA (online and offline)
Feel free to contact us
We look forward to hearing from you
Do you want to talk with a customer advisor or learn more about career opportunities with us? Or maybe there is something else you want to talk to us about? Write to us – your contact person will get back in touch with you as quickly as possible.
Subscribe to IVU News
Stay informed – get the latest news about our projects, customers and products directly into your inbox.